Taiwan culls another 1,000 pigs due to FMD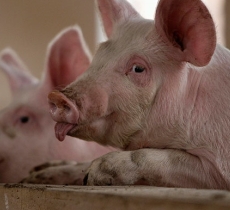 Another case of Foot-and-Mouth Disease (FMD) has been confirmed in the Taiwanese pig industry. This time the virus was discovered on a pig farm in Tainan City, Beimen District, in the island's South East.
This was reported by the World Organization for Animal Health (OIE). The Foot-and-Mouth Disease outbreak was confirmed on December 20.
Vesicular lesions
Pigs with vesicular lesions were reported by a private veterinarian on a pig farm in Tainan City. Samples for virus detection were collected and sent to the national laboratory (Animal Health Research Institute). Movement control was implemented on the infected farm immediately, and the prefecture animal disease control competent authority destroyed the pigs at the same time. Cleaning and disinfection have been conducted on the index farm. FMD infection with serotype O was confirmed.
A total of seven pig farms, three deer farms and one goat farm within a 3-km radius of the index farm have been investigated, but no clinical or epidemiological evidence of FMD infection has been found.
In total 2,667 pigs on the farm were susceptible to the disease of which 983 had to be culled; the rest was vaccinated. If a farm is found not to have vaccinated their animals in advance or reported the outbreak too late, it will be punished with a fine of NT$50,000 (S$2,140).
It is unkown what the source would be of the outbreak. News website Today Online classified the outbreak as 'the island's worst in more than 14 years'.
Earlier this month, FMD was found in a Taiwanese slaughterhouse, when just over 1,000 pigs had to be slaughtered.
Related website:
• World Organization for Animal Health
• Today Online