South Korea still not 100% FMD free – two new outbreaks in pigs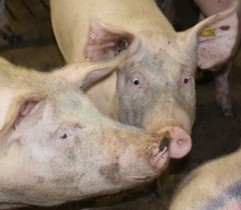 Although occurring with low swine morbidity rates, two new outbreaks of Foot-and-Mouth Disease (FMD) have been confirmed in South Korea in the end of April, Pro-Med Mail reports.
The outbreaks have been found on two farms near Yeongcheon-city in North Gyeongsang province, in the east of South Korea. Of a total of 2,800 susceptible animals, only 21 animals died. One farm has 2,000 pigs (17 infected), the other 800 (four infected).
Setback
The finding of two more cases confirms a setback in South Korea's approach to control the Foot-and-Mouth outbreak, which started in November 2010 and reached its peak in February 2011, at the expense of the culling of over 2.5 million animals with losses estimated to exceed US$2 million.
In the end of March, having included vaccination in its approach, and encouraged by the fact that no new cases appeared since the end of February, Seoul assumed that the highly contagious disease was largely contained and hence downgraded the alert level 'red' to 'orange'. In mid-April, the alert level was further lowered from 'orange' to 'yellow,' the second-lowest level in the four-tiered alert system.
Unfortunately, on April 16, after absence of the disease for almost two months, a new case of FMD was diagnosed in a pig farm near Yeongcheon-city where now two additional cases have been found.
Continuing circulation
While showing a low apparent morbidity rate (0.75%), these new outbreaks may be indicative of a continuing circulation of the virus in South Korea.
The source of the virus which has infected the two pig farms deserves to be investigated. Surveillance should cover also wildlife, such as wild boars and deer.
Pro-Med Mail is a reporting service by the International Society for Infectious Diseases (ISID).
Related websites:
• ISID