South Korea starts Foot-and-Mouth vaccinations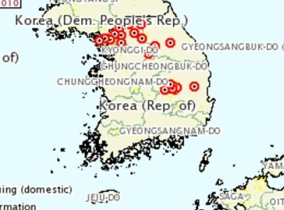 South Korean health authorities have begun the vaccination of 133,000 animals in five affected areas Saturday as the epidemic devastated the local livestock industry and forced provincial governments to cancel tourist programmes and festivals ahead of the New Year, The Korea Herald reports.
The South Korean Ministry of Food, Agriculture, Forestry and Fisheries (MIFAFF) said vaccinations will only be given to cattle because they are more vulnerable to the disease, with pigs and other cloven-hoofed animals to be excluded.
The newspaper also said that the government earmarked 154.1 billon won (US$133.4 million) for quarantine and decontamination and support for farmers hit by the disease. The cabinet plans to approve the expenditure plan tomorrow.
Measures as stamping out of infected herds and preemptive culling of susceptible animals within a radius of 500 m from them don't seem to have been effective enough in the control efforts; the involvement of pigs, since the onset of the epizootic, may have been a major factor in this difficulty – on top of the significant infectivity/ invasiveness of the virus strain involved.
Aggressive spread
The most recent spread of Foot-and-Mouth Disease (FMD) in South Korea has become rather aggressive with 16 outbreaks in the last week. The last three were confirmed only last Friday on the northwestern island of Ganghwa last Friday.
In total, 51 outbreaks have been reported in some 20 South Korean cities and counties since the disease broke out near the city of Andong in the end of November. Fifty outbreaks now have been reported to the World Organization for Animal Health (OIE).
Authorities have ordered the culling of a record 325,000 livestock so far with estimated losses expected to hover around 400 billion (US$ 347.6 million).
Last contaminations
The three last infections were confirmed on Ganghwa Island off the west coast, Hoengseong in Gangwon Province and Yeongcheon in North Gyeongsang Province.
A large pig production farm with 24,000 animals in Yeongcheon, 344 km South East of Seoul, tested positive for the disease, it said. The pigs raised at the production facility are sold to other farms with authorities acknowledging that animals carrying the FMD virus may have been inadvertently sold before a quarantine ring was set up.The animals were put under close observation only Thursday after some animals started to develop blisters on their snouts, teats and hooves and showed a loss of appetite.
"There is a chance that animals infected with FMD may have been transferred to other farms," an official, who declined to be identified, said. All animals on the farm and those within a three-kilometre radius are to be culled to prevent the spread of the disease.
Reflecting concern that the disease may continue to spread, a pig farm in adjacent Gyeongju has been quarantined after some animals started showing possible signs of the disease.
Earlier outbreaks
Earlier last week, 13 outbreaks were reported, of which six on a single day – 21 December. Seven of the outbreaks were located in the Gyeonggi province, five in the Gangwon province and one in Incheon Metropolitan City.
Three of these cases were found on pig farms; the rest was found on cattle farms reported. In total 15,890 pigs were involved; six pigs tested positive for FMD.
The country was hit by FMD outbreaks in January and April, which cost more than 250 billion won and left nearly 50,000 animals slaughtered.
Korea ordered a halt to pork and beef exports in January when an outbreak was confirmed at Pocheon northeast of Seoul.
Related websites: