Canadian Enviropigs put down, university confirms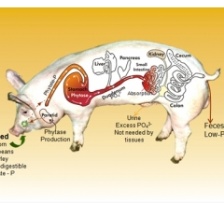 The genetically modified pigs were put down last month after the University of Guelph found no way to continue the research or farm the animals out, the school confirmed.
University spokeswoman Lori Bona Hunt said she had received "many generous and well-intentioned offers" from individuals and groups interested in helping find homes for the "enviropigs."
"Unfortunately, there was absolutely no opportunity for this to occur, as adoption, donation or transfer of the animals would represent a breach of protocols and Canadian policies," Bona Hunt said.
"Releasing the enviropigs would also have violated Canadian regulations for the containment and use of transgenic animals, and possibly compromised consumer safety and market protection."
As a result, she said, the 10 animals — from the 10th generation of enviropigs — were "humanely euthanized" on May 24.
The pigs, genetically modified to generate less-polluting waste, were set to become among the first produced for human consumption until the project's main financial backers, Ontario Pork, pulled the plug largely based on consumer antipathy toward the altered animals.
The school said it was trying to find ways to allow the research to continue.
Farm Sanctuary, a US-based group that had offered to try to find new homes for the animals, decried the killing.

Rich Moccia, an associate vice-president at the school, said last month that relinquishing control of the enviropigs posed unacceptable risks.
"The possibility of escapement or inadvertent release, however remote, could occur, with the possibility that they could intermix with either feral or domesticated pigs, or even end up in the human food chain by accident."
The school planned to preserve the pigs' genetic information in long-term safe storage operated by the federal government in Saskatoon.
Source: CityTV News Toronto