Betagro's swine business takes another step forward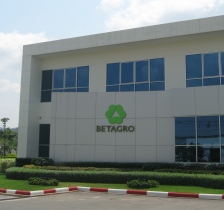 Betagro Group's swine business in Thailand has taken a crucial step forward after the government certified its seven farms meet food safety production standards, the Bangkok Post reports.
The award by the Industry Ministry's Management System Certification Institute makes Betagro the first local swine producer and distributor in the country to have its entire supply chain complete the Hazard Analysis and Critical Control Point programme.
Slaughterhouses
Vasit Taepaisitphongse, the chief operating officer, said that Betagro Group's slaughterhouses and meat-processing facilities were certified several years ago.
The seven farms operate under the subsidiaries Betagro Hybrid International and Thai SPF Products to raise pigs including fatteners and breeders using 'specific pathogen-free' (SPF) farm technology.
The SPF designation is applied to animals free from chemicals and diseases throughout the production and supply chains.
Farms
The seven farms are located in Prachin Buri, Lop Buri and Nakhon Sawan provinces.
Vasit said Betagro had integrated its pig business with feed production operations, followed by the operation of breeder and fattening farms for distribution of pigs to farmers and pork processing plants and the processing of cooked and frozen pork products for export.
Sumitomo
The SPF programme was introduced to the country by Japan's Sumitomo, a partner of Thai SPF Products.
Swine operations accounted for 2.4 billion baht (€55.9 million) of Betagro's 52 billion baht (€1.2 billion) in sales revenue last year and contributed significantly to the group's food business and regional operations.
This year, Betagro forecasts sales revenue of 61 billion baht (€1.4 billion) including 2.4 billion baht (€55.9 million) from swine operations, five billion from foods such as sausages and ham and 30.2 billion baht (€703 million) from other operations such as swine abattoirs and processing.
Related websites:
• Bangkok Post
• Betagro
• Sumitomo