That became clear in a report that was recently published by the Brazilian Animal Protein Association (ABPA); the figures are summed up in Table 1.
It will prove hard to achieve similar growth figures for another year in 2021. Luís Rua, the ABPA director for trade, explained, "Brazil experiences a complex equation. On one hand, Brazilian pork exports continue to accelerate in a global context of lower supply due to the cases of African Swine Fever (ASF) in Asia and also in Europe."
Pork exports can help to minimise cost levels
On the other hand, he painted a picture of there being strong global pressure on production costs, as prices for corn and soybeans are high all around the word. Brazil has stood out negatively in this context. Rua said, "In this sense, exports can help to minimise losses as the historical costs of production and projections point to an increase in international sales levels."
Pork production in Asia continues pressured by ASF and it is no surprise that the continent is the main destination for pig meat shipments from Brazil. In the ABPA annual report, the top-3 destinations in 2020 were in Asia, see Table 2. China, Hong Kong and Singapore together accounted for around 75% of entire Brazilian pork shipments last year.
Brazil as the world's number #4 pig meat exporter
As consequence, Brazil remained the world's number #4 pig meat exporter, ABPA said. The EU leads by 4.35 million tonnes, followed by the USA (3.32 million tonnes) and Canada (1.53 million tonnes. In addition to export growth to China, Brazil, managed to increase its exports to the USA, the Philippines, Singapore, Chile and Vietnam, for example.
Similarly, the ABPA report places Brazil in the 4th position of largest producers. Number #1 is China with 38 million tonnes, followed by EU with 24 million tonnes and the USA with 12.841 million tonnes.
Rua said, "The results show that, even in the face of economic difficulties and the impacts caused by the Covid-19 pandemic, pig farming maintained a strong growth pace in the past year. With a world scenario still favourable, the expectations for 2021 include new progress in terms of production and shipments of this type of protein."
Domestic pork consumption
Domestic per capita demand of pig meat expanded by 4.5% in 2020, from 15.3 kg to 16 kg, when compared to 2019. Brazil has about 212 million inhabitants, which means that a 0.7 kg per capita growth equals a rather significant amount of 148,000 tonnes of meat.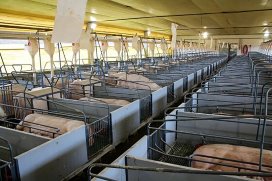 Read also: Brazil reduces antibiotics inside and outside pig farms
Marcelo Lopes, president of the Brazilian Pig Producers Association (ABCS), said that 2020 was a very challenging and unstable year. He explained, "The pandemic led to a drastic drop in demand at the first moment, with many farms retaining animals or selling at levels below cost price."
Lopes explained that prices for the main raw materials (corn and soybean meal) had been on the rise since the beginning of 2020, but as demand gradually returned to normal levels in June, margins became positive.
Great resilience in Brazil's meat sector
He highlighted, "The meat sector in Brazil has shown great resilience. Both the farms and the processing industry has protected worker health, and continued to supply the domestic and external markets without interruption. On the whole in 2020, producers achieved positive results."

Read also the interview: In charge of over half a million pigs
Nevertheless, the ABCS president forecasted a lower growth of Brazil's production for this year, around 2-3%, and exports increasing by 10%, because of a whopping 30% growth in the 1st quarter of 2021 alone.
He said, "After 5 years of continuous growth in the sector between 2015 and 2020, production increased by 30% from 2015 to 2020, Brazilian per capita consumption also grew up by almost 20% in this period." Currently 77% of Brazilian pork is consumed domestically; 23% of the entire pork production is exported.