Manure pit additive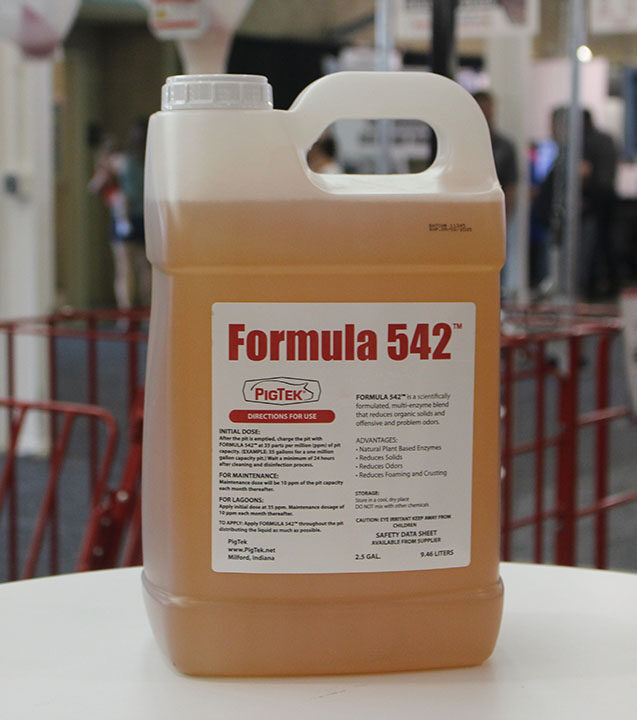 US-based pig housing and equipment company, PigTek, showcased Formula 542, a new additive for use in manure pits. This liquid helps reduce organic solids as well as manure odours without impacting nitrogen levels. The product is being made in combination with an external company. The formula is scientifically formulated on the basis of a blend of enzymes. A 90% reduction of odours was observed in warmer seasons, whereas in colder seasons, tests showed a result of 80% reduction. The company advises to dose 133 litres (35 gallon) per unit of 3.79 million litres (1 million gallons).
Improved fan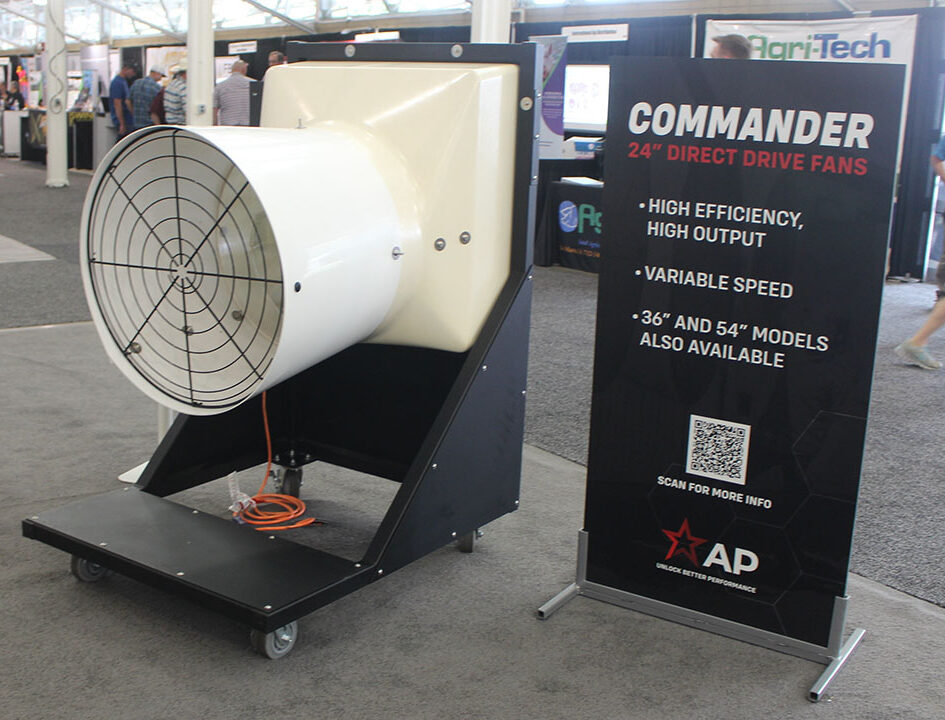 Another housing company, AP, part of AGCO Corporation, showcased the newest addition to its Commander fan climate control line. The newest addition has a 24-inch (61cm) width, which is smaller than existing siblings of 36 and 54 inches. According to the company, the fan's smaller size means that it is more efficient than its counterparts. Variable speed control is possible with the 24-inch fan and it can be used with and without a cone. The fan can be operated with a smart phone app.
Antibiotics in plastic bottles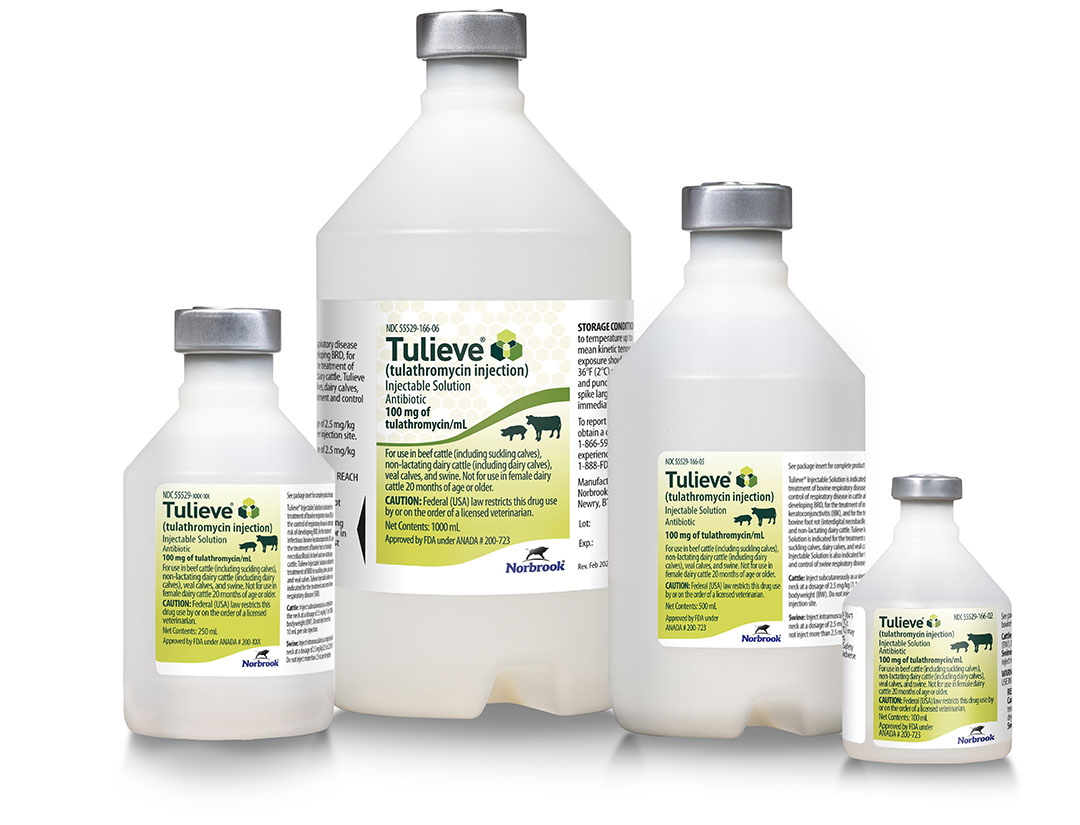 A prize-winning innovation was shown by animal health company Norbrook. Its new Tulieve injectable solution is based on tulathromycin injection – a semi-synthetic macrolide antibiotic – and can be used to deal with swine respiratory disease. The innovation also revolves around worker safety as the product comes in plastic bottles instead glass. That way, injuries due to broken glass can be prevented, plus it reduces the risk of product loss. The product comes in 4 bottle sizes, the largest being 1 litre.
Appeasing substance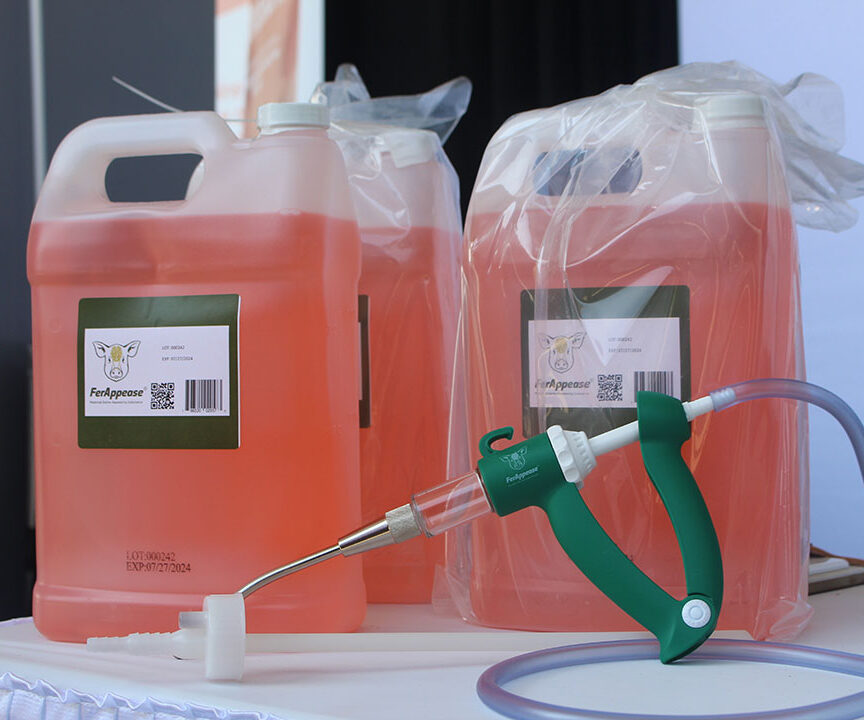 An unusual innovation was brought to World Pork Expo by Fera, a diagnostics and biologicals company headquartered in Texas, USA. Their product, FerAppease, was marketed as 'Maternal Swine Appeasing Substance', a natural substance that is normally secreted by sows to comfort her piglets. The product can be applied on pig foreheads and noses. When breathed in, the compound makes the animals more docile. In other words, if this product helps to reduce stress and aggression during a pig's life, its use is translated into better feed efficiency and a higher average daily gain.
Temperature-revealing heating mats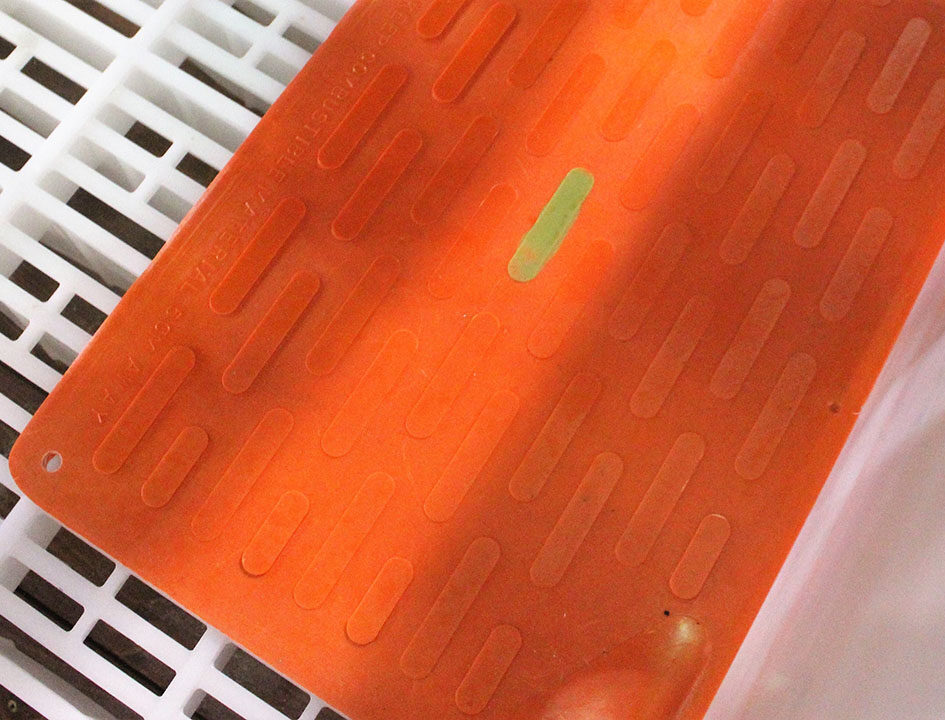 Kansas-based Osborne Industries launched a clever innovation for the youngest piglets – to keep them comfortable, the heating mats must be warm. Producers normally go round through the barn from time to time to manually check the floor temperature. The latest editions of the company's Stanfield heating mats come with an indicator panel which lights up green when hot, which allows for a quick scan without having to bend over. In case it is not functioning properly, the indicator will remain black.
Feed blend supporting sows
Animal nutrition company Alltech used the World Pork Expo as a platform to launch its new sow nutrition product, Triad, aimed at supporting parturition, reducing the incidence of stillborn pigs and boosting the number of weaned pigs per sow. The product, only available in the US, is made of a palatable, proprietary blend of the company's ingredients. According to the company, the approach would lead to a reduction of up to 0.3 stillborn pigs/litter. In top-dressing size, the product comes in a 3-to-5 day pre-farrowing product. It also comes in a package size where it can be blended into transition diets.