Keeping sows outdoors: A dedicated staff is vital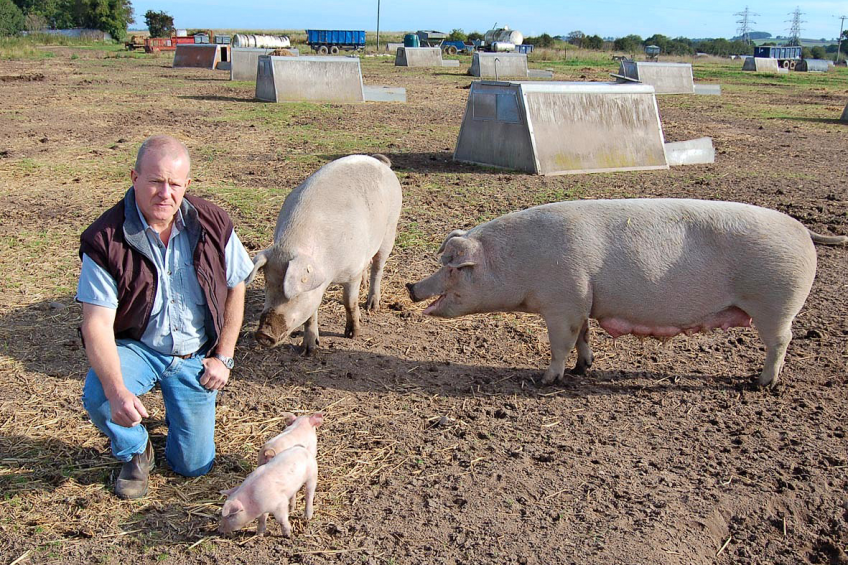 Around 40% of the UK pig industry can be found outdoors – this includes the sows. Yorkshire-based Richard Longthorp is a leading outdoor producer and industry activist. Why keep sows outdoors – and how does he manage?
By Stuart Lumb
How long have you been in the outdoor pig industry?
"My grandfather started our family farming business between the First and the Second World War and it was purely arable until 1989. This was the year I put down my first outdoor unit, which was made up of 300 sows. Today we have 2,100 sows and gilts on three sites. In addition, my daughter Anna has her own outdoor pig business – 'Anna's Happy Trotters'. All Anna's pigs are kept through to slaughter, in free range conditions."
Why keep the sows outdoors?
"The breeding companies at that time wanted to sell outdoor breeding stock and outdoor production was being strongly promoted in the press. We were persuaded by Cotswold pigs to start farming pigs outdoors and set up a 300 sow unit near Howden, East Yorkshire. The land was heavier than is ideal – light sandy soil is the best as it's free draining – and so was sown with grass to keep the land stable. We gradually expanded and of course arable farmers like pigs as they are a 'break crop' in the arable rotation, plus the manure is another bonus. Unlike indoor pigs, outdoor pigs need much less capital investment and are easier to get out of, compared to high cost indoor operations."
How does your system work?
"Sows and gilts are kept in a radial system, which can be likened to the wedge shaped divisions of a dart board. A big bonus is that the centre of the radial is ideal for handling pigs. A three-week batch system is used, with each batch of 110 sows being contained in a wedge shaped part of the radial.
The alternative to radials is the paddock system. As the radial is obviously circular, some land cannot be used, but on balance the radial system is better due to the sows being easier to move than between paddocks. Sows are served, up to three times at daily intervals, under cover, in tents. The batch system is great for finishing, having many pigs of the same weight and age, but having to serve 110 sows daily is a big task, given staff still have other tasks to carry out plus often have to cope with adverse weather as well. From the serving angle 500 sows would be more manageable, but there are certain fixed costs like tractors and trailers which financially make more sense to spread over 700 rather than 500 sows.
Sows are scanned to check whether they are pregnant. Those not-in-pig are re-served and moved into another batch. Sows farrow in individual arks, with pigs being weaned at four weeks. Pigs are kept on the field until 30-40 kg and then moved to large straw bedded yards for finishing. Finished pigs are sold to a leading UK retailer. Rattlerow females are used and sired with specific sire line semen, nominated by the retailer, to produce consistent pigs."
Why do you think this method is the best?
"There is no such thing as a best system. There are paddock systems which work as well as radials – it's just that if a manager/owner likes the paddock system and is an enthusiast then he makes it work. It's all to do with management of the system, paying attention to the basic aspects of husbandry and stockmanship. Having keen, dedicated staff is vital to running an efficient outdoor unit."
What are the problems of outdoor sow management?
"Many of my staff want to work outdoors, which is fine when it's a summer like we recently experienced. But when it's wet and cold like it was last winter, things are very different. I use the services of specialists to train up my staff in technical matters, plus 'team ethos' is extremely important. I played rugby for many years which showed me the importance of team spirit and this same team spirit is vital for outdoor units to run well. There is no slack staff-wise so if a staff member 'pulls a sickie', the other team members have to take up the slack. As I said, serving sows is a very busy time and all the staff have to work flat out to get the sows served within the working day. If a team member is off then it can mean that some sows don't get served and that costs the business a lot of money. To ensure maximum output staff are paid a performance related bonus.
"I'm always looking at ways to save costs so for example we are trough feeding sows rather than simply feeding them on the ground, which can be very wasteful as feed gets trampled underfoot. One UK company is selling an Electronic Sow Feeding system which I'm looking at, but of course it's not cheap, although if feed savings are enough it will pay to put the system in. A neighbour who farms cattle has invested in some very large circular tents and I'm considering buying some as most of the pregnant sows could be kept under one."
Why is the British way to keep sows and pigs so different than the rest of Europe?
"All pigs were kept outdoors 60 years ago, but in most countries across the Channel pigs are now farmed intensively indoors. Denmark has about 10% of her sows outdoors and other countries have some sows outdoors supplying niche markets, like the Spanish Iberico pigs, prized for their exclusive jamon iberico.
"Attitude of mind has a lot to do with it – continental producers tend to invest to become profitable whilst UK producers tend to invest after they are profitable. Also continental banks are more supportive of farmers than UK ones. Around 40% of UK production is outdoors and certainly the lower costs and risks make it attractive. A recent BPEX survey found that on average British producers don't have the confidence to invest in intensive units, which is another reason why outdoor production has become so popular over recent years. The NPA has vigorously promoted high welfare production which sits comfortably with outdoor pig systems, plus the British consumer will pay more for pork products from high welfare systems, i.e. pigs reared outdoors in a more natural environment."
Richard Longthorp
Richard Longthorp owns a 2,100 outdoor sow farm around Howden, East Yorkshire, UK. He has been a long time prominent member of the UK's National Pig Association (NPA) and the current chairman. He has always fought hard to ensure that producers get a fair price for their pigs, given the extra costs of production associated with the country's high welfare systems. For this, he received the David Black Award in 2007.
In addition, Longthorp has been active in developing on-farm training programmes for employees which embody a clear progression based on professionally recognised qualifications. Moreover, as NPA chairman Longthorp is encouraging the remaining 30% of producers to join the NPA. Longthorp was recently awarded the Order of the British Empire (OBE) for services to the British pig industry.