Osmar Dalla Costa, researcher at Embrapa Pigs and Poultry, and Felipe Dalla Costa, consultant at Maneja Consultoria, present an overview regarding how Brazilian producers are able to face the tropical weather threat and keep productivity.
How do you assess the impact of heat stress on Brazilian pig farming?
Osmar Dalla Costa: "The impact of heat stress was greater in the past. Currently, with the modernisation and adaptation of facilities, it decreased. However, it is still relevant in the growth and termination phases. The facilities for primary stages of pregnancy, maternity and nursery are air-conditioned, exactly when tolerance of thermal effect is less. In other words, Brazilian producers worked hard in the early stages. We can say that Brazilian pig farming has evolved a lot in thermal stress, both for heat and cold. Often the facilities are even better in terms of environmental control than the producers' houses. This is very clear in swine productivity indexes in Brazil. There is an evolution in live births, higher weaning weight, lower mortality and greater feed conversion."
It can reach 40 °C throughout Brazil, even in temperate areas
How do pig farmers usually face the high temperatures in the summer and heat waves?
Felipe Dalla Costa: "When a pig farmer does not have air-conditioned facilities or modern ambience, he has greater difficulty. In these cases, they often use equipment such as nebulisers, air circulation techniques, wet the roof of the barn, paint the roof with white paint or isothermal coating, curtain handling, evaporative plates, to name a few. But there are still cases where the only resort is to wet the animals. Whoever is building a new farm today, starts with air conditioning. The older facilities continue to use traditional systems, but many of them have also evolved and moved with the times. As the cost of advanced facilities decreased, modernisation became more accessible and producers began to see more benefits. Every time you improve environmental conditions, animal's convert their feed better which in turn increases productivity."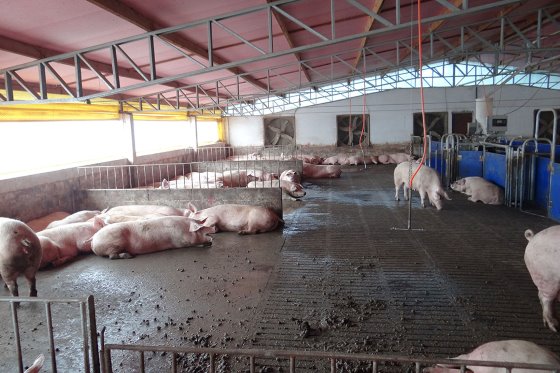 How high can the temperatures reach in Brazil?
ODC: "It can reach 40 °C throughout Brazil, even in temperate areas, in the south of the country. To give you an idea, the ideal temperature for animals is between 24°C and 22°C. This varies according to the animal's phase, as well as the relative humidity of the air. In any case, the problem is not the outside temperature, but the thermal comfort inside the building."
Are there any cases deaths due to heat stress?
ODC: "Poultry are more sensitive to heat stress. In the case of pigs, there is hardly any mortality due to thermal stress. Mortality can occur on trucks during transportation operations in specific situations. For example, if a truck breaks down and the herd is stopped on a very hot day for long periods. But it is very rare."
Are there any notable innovations on that theme? If yes, what are they?
FDC: "There are technologies and innovations out there. Among them air conditioning, negative pressure, forced ventilation, coolers, automated curtain, evaporative plate and other techniques that favour air circulation. Today automation is normal. In addition to this, thermographic cameras that operate as sensors in facilities are beginning to appear. When this equipment becomes cheaper, it might also be adopted in daily practice."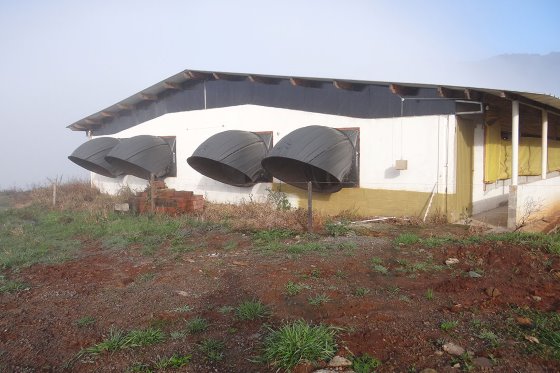 In addition to the facilities, which management techniques are suggested?
ODC: "Feeding during the coolest hours, handle curtains, wetting the animals and paying close attention to the water supply. The most important thing, however, is to observe animal behaviour. They give signals when they suffer from the heat, for example, becoming breathless. We strongly believe in handling and interpreting an animal's behaviour. Even a bad installation can have a good result if it is well managed. On the other hand, a modern farm can lose all its advantages with poor handling. In the past, pig farming was looking for strong workers, today we want a person who is smart. Less strength, more intelligence. In the future, pig activity will be monitored entirely online with cameras and sensors."
I don´t think climate change is affecting farms neither for good or bad
Is feeding and nutrition also important?
FDC: "Certainly, the main companies have adjustable nutrition programmes according to climatic conditions. However, perhaps the most important is how the food will be given. That is, to feed them during cooler periods. The supply of water in adequate quantity and quality is essential for maintaining homeostasis. Good levels of animal welfare obtains good results. This implies monitoring and adapting facilities. Poorly regulated drinking fountains, with very low flow, can cause animals to spend a lot of extra energy trying to obtain the water and even reduce their consumption. On the other hand, high flow rates can throw a jet of water at the animals and make it difficult to drink. Another extremely important point is to keep water tanks in protected places so they don't heat up."
Are these solutions accessible to Brazilian producers?
FDC: "They are now be accessible to everyone. The obstacle is technological training, and not so much the price of the equipment."
Is there evidence that climate change has worsened the situation in the main producing regions of the country?
ODC: "I don´t think climate change is affecting farms neither for good or bad. Productive models evolution is based on technical coefficients. These advances came voluntarily from the producer because they realised that it brings results. Pig farmers are highly focused on environmental issues. There is not enough evidence about climate change affecting Brazil's producing regions."