Welfare is a fiercely debated topic these days – loose housing of gestating sows, teeth clipping, tail docking, castration, to mention just a few, plus loose farrowing. Now that loose housing of pregnant sows during most, and in some countries, the whole duration of pregnancy is the norm in many countries, the spotlight has turned on farrowing crates.
At an International Welfare Conference held in Copenhagen in 2015, Germany, the Netherlands, Sweden and Denmark called for Europe's Pig Welfare Directive to be substantially upgraded and which would include an eventual ban on farrowing crates. After all, welfare regulations may be good for the sow to exhibit her natural farrowing behaviour, but what about her tiny offspring, so vulnerable to crushing and overlaying when newly born? Especially with breeding companies pushing to increase litter size, to ensure all piglets stay alive, they need more protection at farrowing, not less.
Currently, farms in Denmark report mortality being as high as 18% in completely crateless pens. However, skilled operators can get this down to 8% when sows are farrowed in a crate. Keeping 8% more piglets alive would be a big help, not only for welfare reasons but also in order to feed the world in 2050.
Denmark and loose farrowing
Denmark is promoting loose farrowing and carrying out a number of research projects in this area. The Danes aim to have 10% of their sows loose housed at farrowing by 2021. Some grant aid has been available; many farmers in Denmark building new pig houses consider going for loose housing; about 50% end up with at least temporary confinement. In 2007 there were 300 such pens to be found on Danish farms and this has risen substantially to 4,000 in 2016. A new Danish government-backed welfare scheme launched in 2016 specified that sows must be loose housed in lactation and have straw for nest building.
The number of equipment companies selling loose farrowing systems in Denmark and other countries has been increasing steadily over the last few years with these pens being in evidence at all the major European livestock trade fairs. Many commercial Danish farms have already been trialling loose systems, with Danish research organisation SEGES monitoring these systems with regard to performance. Because of the open nature of these pens, sows are relatively free and staff have to be very careful – newly farrowed sows are understandably very protective and can inflict nasty wounds on unsuspecting staff. Handling piglets is not a problem when sows are restrained in a crate, but again with loose sows new techniques have to be devised and staff generally have to be far more alert and wary.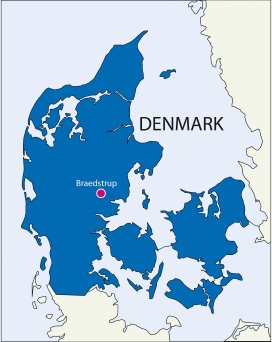 Siljebjerggaard Farm, Denmark
The original farm, owned by Jacob Justesen, is a 1,000 sow farm in the east of Jutland, Denmark. The addition of the research centre facility meant expansion from 700 to 1,000 sows. The farm has Special Pathogen Free (SPF) status so visitors have to be pig-free before visiting the farm and must shower in and out. Apart from a changing room, there is also a classroom. The unit is run by three staff with sows being wet fed via a pipeline. Litter results of the new loose housing facility are not compared in the research.
Purpose-built pig research unit
Given that there is an increasing number of loose farrowing pens on the market, SEGES has financed the construction of a purpose-built unit. This was constructed in Braedstrup, at about 60 km east of Herning, Denmark, to evaluate several systems under one roof and with the same feed, management and the like. The test unit is an extension to the existing pig farm called Siljebjerggaard, owned by Jacob Justesen.
The owner has a keen interest in loose farrowing and also designed his own loose system, although not on trial. The test unit cost DKK 8 million (just over €1 million), measures 36 m x 18 m and contains ten different systems, seven from Denmark, and one each from the Netherlands, Austria and the UK.
The trial will run for just over 15 months and involve ten cycles with two already being completed. "We are very interested in the performance in the summer and the effect of heat," says Dr Vivi Aarestrup Moustsen, chief scientist.
Because the pen dimensions vary, the numbers of pens also vary. Hence because the Jyden pens are 2.90 m wide there are only six of them whereas there are nine of Søren Juul Jensen's as they are narrower (1.80 m). Nine of the pens have the option to confine the sows and most are fully slatted. Eight of the ten have covered creeps and there are five different heat sources. Some pens have side and corner creeps, whereas others have front creeps.
Given the fact that the sows are loose, a front creep has several advantages, such as ease of seeing piglets and ease of accessibility. The Pro Dromi, for example, has underfloor heating for its creep plus the creep has a large curved plastic cover which makes it easy to see the pigs, although if dust accumulates, then visibility is restricted. A floor level slide allows the piglets to be moved into the passage at weaning, without the stress of handling the piglets. The Pro Dromi also has its own ventilation system.
Test focus
What will be checked with each system?
Ease of use by staff
Usage of confinement
Space for sows and piglets in each pen
Effectiveness of the creep area
Provision of feed, water, nesting and rooting material.
Pen hygiene
Injuries to sows and piglets
Safety and staff working conditions
Comparisons
Additional SEGES research, in a different herd, will be carried out in the course of 2017 in cooperation with the University of Copenhagen. This will compare the effects of confinement for two and four days on mortality. "Another unknown is when is the best time of day to let the sows loose and its effect on performance," adds Moustsen.
In Siljeberggaard Farm, most of the pens are fully slatted. There is, however, now a trend in Denmark to reduce the slatted area for welfare reasons. Consequently under the slatted flooring the manure pit is divided like a chequer board into a number of small square containers, which collect the sow's faeces and urine. "This is an ingenious way to assess the dunging pattern of sows," said Lisbeth Ulrich Hansen, chief researcher. "Hence the areas where the sows dung can be determined and these areas will be kept slatted. Areas where the sow does not dung can be then be made solid."
Results and conclusions as to which system is the best will be published at the end of 2017.