When dining out, Britains pick pork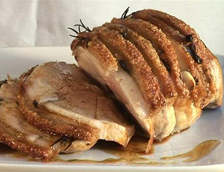 In Britain, the popularity of pork is growing when people are eating out of the home, with bacon leading the way.
New figures from NPD Group/Crest show that pig meat, including pork, bacon, sausages and ham, was the most consumed red meat in the out-of-home market, with 68.7% of all red meat servings.
It also experienced the greatest increase in servings in 201,1 compared with a year ago. The figures show total pig meat servings increased by 8.1%.
In the main, this growth was driven by bacon, which saw servings up by 29.5% and sausages, by 21.3%. Ham has also moved up the charts, by 11.7% and pork saw an increase of 4.6%.
BPEX foodservice trade manager, Tony Goodger, said: "Quality assured bacon is a fantastic ingredient for all types of menus. It's hugely versatile and delivers a punch of flavour to dishes."
Related website:
• British Pig Executive