Wal-Mart China to pay heavy fines, suspension due to pork misrepresentation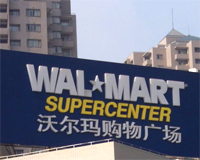 Wal-Mart branches based in Chongqing, China, have been ordered to dig deep to pay fines and shut up shop as they have been found to be selling normal pork as high quality pork.
Chongqing, a major city in China, has 13 of the supermarket's stores, 12 of which are to pay fines for illegally selling normal pork meat as the more expensive type. The more valued kind of pork meat comes from pigs that have been fed and raised in accordance with high standards. However, the supermarket giant's 12 stores have falsely sold the ordinary meat.
Fined
A report by China Daily states that the stores have been slapped with fines worth five times as much as the income they made from illegally selling ordinary pork. They were found guilty of putting incorrect information on 60 tonnes of the pork they had sold over the course of 20 months.
"By now, nine of the outlets have been fined nearly 2.7 million yuan ($430,000)," said Huang Bo, head of the Chongqing administration for industry and commerce. "This is the highest of all of the fines that have been imposed on supermarkets in recent years."
Seven of the 12 stores have gone through legal procedures and started their 15-day suspensions on Sunday. Despite the 15 day suspension, they can only reopen if they have been given the go ahead  after inspection by Chongqing's market watchdog.
Wal-Mart China has released a statement on its website saying, "We will take all necessary steps to ensure this does not recur. Wal-Mart is committed to protecting the rights of consumers."
Wal-Mart China first opened in the city in 2006 –  the supermarket giant has been in the spotlight with regulatory authorities before this latest scandal. Previously Chongqing's market watchdog has punished the company's outlets 21 times for expired and substandard food being sold, as well as for using false advertising.