USA: Retail pork prices may rise due to group housing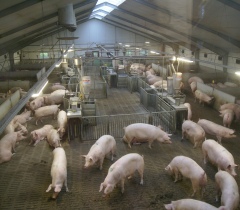 Retail pork prices in the United States may be going up strongly as a result of the implementation of group housing for sows, experts say.
In a feature, provided by the Associated Press, experts explain their worries about the prices that will have to be paid for the move away from gestation crates.
The move to group pens requires building new barns and renovating old ones, more labour and more training for workers. Veterinary costs can go up because sows tend to fight and sometimes injure each other. Experts say at least some of those expenses are likely to be passed on in the price of ham, bacon, chops and sausage.
Major pork producers
Under pressure from animal rights activists and sensing a shift in consumer sentiment, several major pork producers have agreed to phase out gestation crates and switch to more open pens. Major pork buyer McDonald's recently announced its suppliers will have to stop using them as well.
Are consumers willing to pay for these changes? Blake Hurst, president of the Missouri Farm Bureau and former hog farmer was quoted to say: "We may as a society be in the process of deciding we're more than willing to pay those costs, but people ought to know what's involved in their decisions."
Smithfield
Smithfield had converted 30% of its company-owned farms by the end of December and is on track to meet its goal of switching all of them by 2017, said Dennis Treacy, executive vice president and chief sustainability officer for Smithfield Foods.
Treacy said it's too early to tell how much of the expected $300 million conversion costs would be passed along to consumers or absorbed by the company.
NPPC
Dave Warner, spokesman for the US National Pork Producers Council (NPPC), said that putting open pens into existing barns cuts production because the buildings can't hold as many sows. He added that building bigger barns to accommodate group pens, however, is expensive, and smaller producers who can't afford to retrofit existing barns could be forced out of business, reducing supplies.
In the European Union, as from January 1, 2013, the use of sow stalls will be banned for the majority of the gestation period. Many countries, especially in southern Europe, are struggling to meet this deadline and are not expected to be compliant by this date.
Related websites:
• AP
• Missouri Farm Bureau
• McDonald's
• Smithfield