US pork exports post strong Q1 growth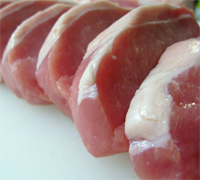 US pork exports finished the first quarter 8 percent higher in volume (598,058 metric tons) and 20 percent higher in value ($1.66 billion) than last year's record pace, according to statistics released by the USDA and compiled by the US Meat Export Federation (USMEF).
At the same time, the value of beef exports for the quarter rose 4 percent (to $1.25 billion) on 10 percent lower volumes (266,388 metric tons).
March pork export volume of 198,972 metric tons was 8 percent lower than a year ago, but up 6 percent from February 2012. Export value of $570.5 million was 3 percent higher than last year and up 8 percent from the previous month. These results were led by excellent growth in the China/Hong Kong region and by strong performance in Mexico, Japan and Canada.
Beef export volume in March of 89,803 metric tons was 23 percent lower than last year but up 3 percent from February. March export value of $438.5 million was down 8 percent year-over-year but was 7 percent higher than the previous month.
"A 20 percent increase in pork export value for the first quarter is extraordinary, especially considering the record performance of last year," said USMEF President and CEO Philip Seng. "On the beef side, market access issues and price sensitivity are making volume growth difficult in some markets, but we are pleased to see export value remaining above last year's record pace, even on smaller volumes."
Pork export value per head sets new monthly record
March pork export value was particularly strong on a per-head-slaughtered basis, reaching $59.92. This was nearly $4 higher than a year ago and set a new monthly record, surpassing the previous high of $59.53 set in November 2011. Exports equated to 27.8 percent of total U.S. production of muscle cuts plus variety meat, and 24 percent when including muscle cuts only.
Mexico remains the leading market for US pork on a volume basis, with first quarter exports up 17 percent in both volume (162,721 metric tons) and value ($299.7 million). Exports to Japan, which nearly reached the $2 billion mark in 2011, were up just 1 percent in volume (122,899 metric tons) but also achieved a 17 percent increase in value to $530.6 million. Exports to the China Hong/Kong region, which came on very strong in the second half of 2011, were 30 percent higher in volume in the first quarter (115,642 metric tons) and surged 82 percent in value to $234.9 million.
Other first quarter market highlights included:
Exports to Canada were up 26 percent in volume (55,916 metric tons) and were one-third higher in value at just under $200 million.
In Russia, where US pork now has better potential for expansion under a global tariff rate quota, exports were up 20 percent in volume (15,510 metric tons) and 36 percent in value ($47.9 million).
Led by a strong performance in Colombia, exports to the Central and South America region expanded 9 percent in volume (20,603 metric tons) and 16 percent in value ($53.5 million).
In South Korea, pork exports surged in the early months of 2011 because of culling of the domestic swine herd (due to foot-and-mouth disease) and a temporary duty-free tariff rate quota for some cuts of imported pork. Consequently, year-over-year exports to Korea were lower in the first quarter of 2012 – down 27 percent in volume (53,590 metric tons) and 12 percent in value ($154 million). It is important to note, however, that these totals were still more than double the volume and triple the value recorded in the first quarter of 2010.
"While domestic supplies are recovering in Korea, we are still creating new opportunities for U.S. pork." Seng said. "The lower tariffs made possible by the Korea-U.S. FTA will enhance the competitiveness of U.S. pork in terms of price, and help us further expand the presence of chilled pork and value-added pork products in the retail and foodservice sectors. These marketing strategies have proven very effective in Japan, and I believe we can have similar success across north Asia."