US pork exports on track to beat record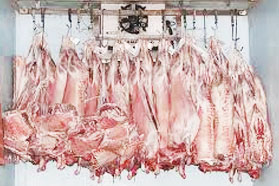 US beef and pork export volumes trended lower in November, according to data released by USDA and compiled by the US Meat Export Federation (USMEF). However, the cumulative 2014 volume totals were still higher year-over-year, with January-November pork exports up 2% at just under 2 million mt.
Even though November pork exports were down 13% in volume (168,062 mt) and 6% in value ($519.9 million), pork export value through November ($6.13 billion, up 11%) is on pace to break the 2012 record and already exceeds the 2013 year-end total.
USMEF President and CEO Philip Seng said that while the first 11 months of 2014 reflect a very solid performance for US beef and pork, exports face heightening economic challenges in leading markets in the coming year.
"Demand for US beef and pork remains strong, as international buyers appreciate the unmatched quality and consistency of our products," he said. "But lower slaughter numbers reduced 2014 supplies, which obviously had an impact on prices, and in recent months buying power in many key markets has been affected by slowing economic growth and weaker currencies. Market access restrictions in several important markets, including China and Russia, also had a big impact on opportunities for US exports last year. The outlook for 2015 is for more of the same, but our industry has proven its ability to identify and develop export outlets in difficult times. When I look across the world as a whole, I still see good potential for further expansion of red meat exports in 2015."
Pork export pace slows
November pork exports equated to 25% of total production and 20% of muscle cut production – down from 26% and 22% a year ago. For January through November, exports equated to 27% of total production (up from 25.5%) and 22% for muscle cuts (up from 21%). Export value per head slaughtered was $58.99 in November (up 3% from a year ago) and $63.21 for January-November (up 17%).
Exports to leading volume market Mexico slowed in November (53,433 mt, down 9%) but January-November volume still reached 617,034 mt, up 10% from a year ago. Export value was 2% lower in November ($121.8 million) but still up 31% year-over-year to a record $1.42 billion.
Pork muscle cut exports to Japan were down 22% in November (25,901 mt) and fell 19% in value ($120.3 million). For January-November, muscle cut exports to Japan were down 6% in volume (354,239 mt) and 2% in value to $1.66 billion. The Japanese market has been greatly impacted by an influx of pork from the European Union, which has been locked out of its top market, Russia, since January 2014. Data from Japan show that pork/pork variety meat imports from the EU increased 42% through November, reflecting lower prices resulting from the impasse with Russia.
Exports to Korea have already surpassed 2013 year-end totals in both volume (120,724 mt, up 40% from a year ago), and value ($392.3 million, up 64%).
Led by Colombia, exports to the Central/South America region remain on a record volume pace (112,101 mt, up 3%) and have already set a new value record of $316.4 million (up 15%). Although exports to Colombia slowed in the fourth quarter, January-November totals were still up 42% in volume (43,716 mt) and 54% in value ($123.8 million).
While pork exports to Canada were 9% lower in volume (191,355 mt), export value remained strong at $832.1 million – up 7% year-over-year and approaching the full-year record of $855.7 million set in 2012.