US: Pork exports continue growth trend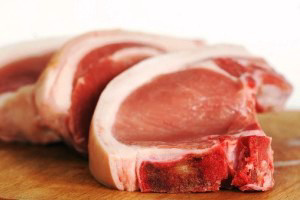 US beef and pork exports continued their positive growth trend in April, increasing by double digits in volume and by an even healthier margin in value, according to statistics released by the USDA and compiled by the US Meat Export Federation (USMEF).
Higher prices commanded in the global market have driven up per-head export values for both US beef and pork, as international customers have, so far, been willing to pay higher prices for larger volumes.

For the month of April, total US pork exports (muscle cuts plus variety meat) rose 11 percent over year-ago levels in volume to 192,924 metric tons (mt) valued at $596 million, a 26 percent increase. For the first four months of 2014, pork exports are up 11 percent in volume to 776,601 mt valued at $2.25 billion, a 14 percent rise.

The US exported 99,297 mt of beef in April valued at $537.4 million, increases of 15 and 24 percent, respectively. Year-to-date, beef exports are up 10 percent in volume and 17 percent in value to 376,377 mt valued at $2.05 billion.

"Even with a plentiful supply of EU pork products in the marketplace and large volumes of Australian beef, we are still seeing demand grow in most of our key markets and remain steady in others," said Philip Seng, USMEF president and CEO. "It is encouraging to see solid growth in sales to markets where the U.S. industry has made the biggest commitment in resources. A good example would be Korea, where export volumes have struggled since 2012 but, as Korea's domestic supply levels of beef and pork normalize, we are seeing a robust rebound in demand for U.S. products."

Pork exports in April accounted for 28 percent of total U.S. pork production and 23 percent of muscle cuts alone, increases from 25 and 21 percent, respectively, over last April. Export value per head slaughtered equated to $67.35 for the month, up from $50.75 a year ago.

Pork export markets of note in April included:
• Mexico: the top volume market was up 42 percent in value to $132 million on 1 percent higher volume (53,288 mt), helping support record ham prices.

• Japan: export volume set a new monthly record of 48,507 mt (up 39 percent). Sales to the top pork export value market rose 26 percent to $193.9 million.

• South Korea: imported its largest volume of U.S. pork since March 2012: 17,126 mt (up 95 percent) valued at $51 million (up 122 percent).

• Canada: the No. 4 export market for U.S. pork rebounded slightly in April with volume up 4 percent (17,384 mt) and value up 27 percent ($75.6 million).

• Colombia: the top market in the Central/South America region continues to sizzle, up 76 percent in volume in April (4,398 mt) and 74 percent in value ($11.4 million).
For more info on beef and lamb, visit USMEF.