US pork export growth to Mexico slows down in 2015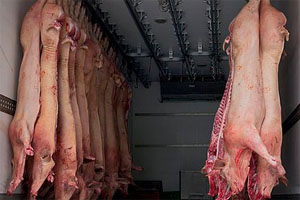 Pork exports from the United States to Mexico, its biggest market, are likely to grow more slowly in 2015 after three years of record increases, as a deadly pig virus abates in both countries, industry experts said.
The flows south of the border have become a lucrative alternative for the world's leading pork exporter after it lost the Russian market following last year's rift between the West and Russia over Moscow's involvement in Crimea. From January-November 2014, U.S. pork exports to Mexico totaled 617,000 metric tons (tonnes), worth a record $1.42 billion, up 10 and 31 percent respectively from 2013, based on the U.S. Department of Agriculture's most recent data. Based on that, full-year 2014 exports should be 630,500 tonnes, up 12 percent from 2013, according to University of Missouri economist Ron Plain. He predicts 2015 sales to Mexico will be 649,000 tonnes, just a 3.1 percent bump from 2014.

Third straight yearly record
The Colorado-based U.S. Meat Export Federation (USMEF) puts total 2014 U.S. pork exports to Mexico at about 680,000 tonnes, an 8 percent rise from 2013, valued at $1.6 billion, up 28 percent, the third straight yearly record for both tonnage and value to Mexico.
The USMEF projected another record year for export volume to Mexico in 2015 but with growth at a more modest pace of 1.5 percent to about 690,000 tonnes.

Porcine Epidemic Diarrhea virus (PEDv), which has killed an estimated 8.5 million pigs in the United States since May 2013, is one factor behind Mexico's aggressive buying so far in 2014. The virus had spread to 17 of Mexico's 19 producer states by May 2014, according to an October report from the USDA's Foreign Agriculture Service in Mexico City. PEDv is not a reportable disease to either the Mexican government nor the World Organization for Animal Health (OIE), so no official data from Mexico on deaths of pigs is available.

Lower pork prices in 2015
Mexico's hog farmers have adopted the same strategy as their American counterparts to compensate for PEDv-related production losses, expanding herds and feeding animals to heavier weights. High hog prices and lower feed costs have been incentives.
Pork prices in Mexico rose to near-record highs last year but should come down in 2015 as PEDv shortages start to ease, Mexico swine veterinarian Dr. Alberto Stephano told Reuters via email. "As with most viral infectious diseases, after some years it will stabilize," Stephano said.

Source: Reuters