US: Pork blood product recalled due to non-inspection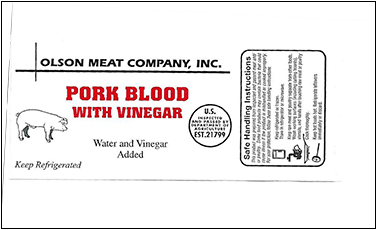 Olson Meat from Orland, California, is recalling approximately160 pounds (72.575 kg) of pork blood product that was produced without the benefit of federal inspection and outside regular inspection hours.
The following product is subject to recall:
1 gallon jugs of "OLSON MEAT COMPANY, INC., PORK BLOOD WITH VINEGAR"
Jugs and cases contain a generic label with safe handling instructions (keep refrigerated or frozen) affixed to the handle of the jug and bear the establishment number "EST. 21799" inside the USDA mark of inspection. The products were produced Sept.9 and were shipped frozen on Sept. 10 to a single retailer in Hawaii.
The problem was discovered by FSIS during routine in-plant verification activities.
FSIS and the company have received no reports of adverse reactions due to consumption of these products. Anyone concerned about a reaction should contact a healthcare provider.