US: October pork exports set new record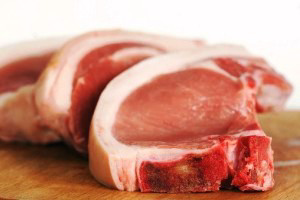 US pork exports set new monthly records in October, according to statistics released by USDA and compiled by the US Meat Export Federation (USMEF), reaching 218,132 metric tons (mt) valued at $607 million.
Export volume was 9 percent above last year and broke the previous monthly record of 217,080 mt set in November 2011. Export value exceeded $600 million for the first time, breaking the previous high ($597.85 million, also from November 2011) by 1.5 percent.

For January through October, US pork exports were 3 percent ahead of last year's record pace in volume (1.875 million mt) and 6 percent higher in value ($5.24 billion).

Beef exports also posted solid results in October, with export value ($496 million) increasing 10 percent over last year despite a 4 percent decline in volume (101,447 mt). This was consistent with this year's January-October pattern, which has seen an 11 percent decline in volume (951,886 mt) compared to 2011 while export value ($4.6 billion) remained 2 percent ahead of last year's record pace.

"With pork production at a very high level, the US industry is relying on a strong performance from the international markets," said USMEF President and CEO Philip Seng. "We not only achieved that, but also maintained an excellent per-head return for producers."

Seng added that in the beef complex, volume continues to struggle compared to last year but export value is very strong.

"Considering the economic headwinds we face in several markets, beef export value is holding up extremely well – especially on a per-head basis," he said. "For livestock producers who are facing some very tough obstacles, the export markets are truly a source of optimism."

Outstanding month for pork in nearly every major market
October pork exports accounted for 23 percent of muscle cut production and 27.4 percent when including variety meat. For January-October, these ratios were 23.6 percent and 27 percent, respectively. This was slightly higher than last year for muscle cuts (22.9 percent) and steady with last year's percentage of total production exported. On a per-head-of-slaughter basis, October exports equated to $55.95 (compared to $57.93 in October 2011). For January through October, the per-head average increased 3.5 percent from a year ago to $56.14.

Several major pork export markets posted their best performances of the year in October, while others recorded their highest totals in several months. These included:

• Mexico, with its best month since January 2012, took 56,282 mt valued at $108.5 million. This pushed the January-October totals to 499,724 mt (+16 percent from the same period last year) valued at $928.5 million (+12 percent).
• Exports to Japan were the largest since March 2011, totaling 45,084 mt valued at $188.1 million. The January-October volume total was down 5 percent to 389,446 mt, but value was 4 percent ahead of last year's record pace at $1.68 billion.
• Russia posted its largest total since May 2010, with 13,278 mt valued at $38.9 million. This pushed the January-October results to 86,566 mt (+30 percent) valued at $247.6 million (+20 percent).
• Exports to South Korea, below the record-setting totals of 2011 for most of this year, rebounded in October to 14,050 mt valued at just over $37 million – the best performance since March 2012. January-October totals remained well below last year (119,786 mt, -26 percent valued at $340 million, -19 percent), but these results still exceed corresponding 2010 levels by 73 percent. Korea's domestic pork production was severely impacted by foot-and-mouth disease in 2011, boosting demand for imported pork. Production rebounded strongly in 2012, so a year-over-year decline in U.S. exports was anticipated.

Strong October totals were also recorded in Canada, Oceania, Central and South America and the ASEAN region. Export volume to China/Hong Kong was down 36 percent from last year's record total, but posted the best performance since April 2012. Through October, exports to this region were still up 10 percent in value at $716.89 million, but volume was 3 percent behind last year at 352,125 mt.

"Pork exports to China/Hong Kong are not expected to match last year's fourth quarter surge," Seng said. "But that makes the global results in October all the more impressive, illustrating the diversity of our export destinations."

***For more info on beef and lamb exports, visit USMEF.