US: Meat packers – new 'low' in workplace injuries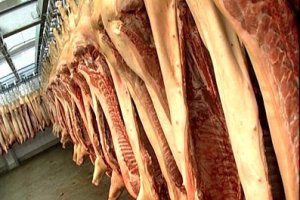 Newly-released Bureau of Labor Statistics (BLS) data shows that US meat and poultry packers and processors continued to make significant progress in workplace safety, as BLS numbers reveal a new 'low' in non-fatal occupational injuries and illnesses in the meat and poultry sector.
In 2011, there were 6.4 cases of occupational injuries and illnesses per 100 workers in the meat and poultry sector, compared to 6.9 in 2010 – a reduction of 7.2%. In addition, the industry's recordable position versus the overall Manufacturing sector improved by more than 11 percent. The manufacturing sector rate remained unchanged from 2010. Historic BLS data reveal that the meat and poultry industry has shown continuous improvement over the years, halving the injury and illness rate from 14.7 per 100 workers a decade ago.
"The meat and poultry industry's 500,000 employees are an essential and valued resource," said AMI President and CEO J. Patrick Boyle. "Ensuring the health and safety of our workforce is good for employees and has business benefits, too, as they can perform their jobs in the best manner possible. Safe workplaces are positively correlated with quality, productivity, cost, turnover, and related measures of industry success."
According to Boyle, much of the improvement in worker safety over the years can be attributed to two major efforts initiated by the meat industry beginning in 1990. That year, the US meat industry, together with OSHA and the United Food and Commercial Workers (UFCW) union, developed Voluntary Ergonomic Guidelines for the Meat Packing Industry—guidelines that OSHA called a "model"for other industries. In addition, the AMI Board of Directors deemed workplace safety a non-competitive issue and encouraged their respective company staffs to share information on safety practices. This decision enabled the AMI Worker Safety Committee to pursue a number of safety improvements, including the annual AMI Foundation Conference on Worker Safety and Human Resources, which has occurred annually ever since.
More information about worker safety in the meat and poultry industry is available here. The full BLS worker safety statistics are available here.