US: Groups want 'comprehensive' FTA with EU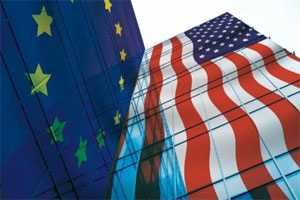 A coalition of US food and agricultural organizations led by the National Pork Producers Council is urging the Obama administration to press the European Union to negotiate a "comprehensive" free trade agreement, including addressing sanitary-phytosanitary (SPS) barriers to trade.
In a letter (see below) signed by 47 organizations sent to US Trade Representative nominee Mike Froman, the coalition expressed concern with a resolution approved last month by the European Parliament that in negotiating the Transatlantic Trade and Investment Partnership (TTIP) with the United States the EU should maintain the "precautionary principle" for SPS issues. Precautionary measures are implemented based on the mere identification of potential risk or, worse, on public perception and political considerations rather than on science-based risk assessments. The World Trade Organization requires member countries' SPS measures to be based on scientific risk assessments.

"Precaution in the EU has become a pretext for import protectionism under the pretense of consumer safety," wrote the coalition in its letter. "Such non-science-based measures have become the most challenging barrier to US food and agricultural exports to the EU."

Examples include certain restrictions on production methods that negatively affect exports of US meat, poultry and dairy products; discriminatory and trade-restricting product labeling requirements; and regulatory barriers to biotechnology that restrict US corn, soy and processed corn and soy product exports.

The coalition said SPS issues must be addressed as part of the negotiations, not simply left to some future consultative mechanism as some EU parliamentarians have suggested. Additionally, SPS provisions negotiated under the TTIP must be enforceable.
If certain sectors or measures are excluded from the TTIP, said the coalition, or placed into a "future negotiation" category, the agreement likely will fail to win the support of the food and agricultural sector.

The coalition reiterated its call for the administration to use the Trans-Pacific Partnership negotiations and other recent US free trade agreements as models for talks on the TTIP.