US chilled pork campaign in South Korea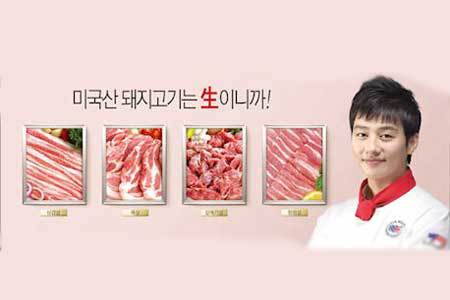 US pork ads put up in Seoul subway stations are the start of an ad campaign designed to change the minds of Koreans regarding chilled pork.
The popularity of celebrity chefs and TV cooking programs isn't unique to the United States. South Korean consumers are glued to their televisions to watch their favourite cooking gurus and learn the latest in trendy cooking techniques and recipes.
To capitalise on the growing craze, the US Meat Export Federation (USMEF) is partnering with celebrity chef Shin Hyo Seob, a judge on the popular Chef King television program, to promote US chilled pork and encourage year-round consumption.
Frozen pork in Korea is typically considered a lower-quality product, so USMEF is working with chef Shin as part of a multi-phase campaign to raise the awareness of chilled high-quality US pork, using Shin and other Korean meat industry professionals as spokespersons. Funding for components of the campaign is provided by the USDA Market Access Program, the US national Pork Checkoff and the Illinois Soybean Association.
The ads, displayed in five subway stations in Seoul will be seen by more than seven million commuters daily.
"Currently, among major Korean retailers, only Top Mart and Costco are selling US pork all year round while Lotte Mart, Homeplus and E-Mart sell it on a spot basis," said Jihae Yang, USMEF-Korea director.
"Our goal is both to raise awareness of American pork and to associate it with leading chefs who choose only the best products for their dishes."
Yet another element of the campaign is a service that USMEF is offering to meat distribution companies.
"So far we have 24 trucks wrapped with the USMEF pork messaging and another seven with pork on one side and beef on the other," said Yang. "By the end of the year our goal is to have 50 trucks driving every day through the streets of Seoul, delivering a constant reminder of the quality of American pork."
The Korean pork industry was severely damaged last year by foot-and-mouth disease as it was forced to cull more than 3 million hogs – more than a third of the domestic herd. However, the industry is rapidly rebounding, posing challenges for all imported pork. At the same time, US pork continues to be the leading imported pork, holding a 32% share when measured by volume and 30.6% by value.
Through the first four months of 2012, US pork exports to Korea are down in both volume and value, but the country remains the No. 5 market for American pork exports, buying 67,061 metric tons (147.8 million pounds) of product valued at US$192.7 million.
Since market conditions in Korea have changed significantly since last year, it is difficult to compare 2011 to 2012. It is worth noting that US pork export volume to Korea for January through April of this year remains 38% above 2008 levels, which was the next-highest year on record, and export value has more than doubled.
In addition, the Korea-U.S. Free Trade Agreement just took effect in mid-March, so the U.S. pork industry should begin to see benefits of that agreement in the months and years ahead.
Source: http://www.porknetwork.com/