UK: Radical changes needed to pig production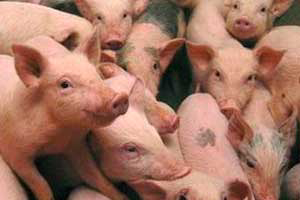 Calls for radical new approaches to pig production and marketing to help solve the industry's current challenges and pave the way to a profitable future were made at the 24th annual JSR Technical Conference in York, England.
The conference was held on 10 September. From the start, speakers at the one-day conference focused on applying science to develop practical solutions to the various challenges facing the industry.

"We need to be innovators and early adopters of new technology and new ideas to stay ahead of the field and provide our customers with good-tasting quality products. We cannot afford to be laggards," said the pig breeding company's head of technology transfer Stephen Waite.

"I believe the industry needs to get information, use it and then implement it straight away, instead of first doing trials and then sitting back to consider the results in the traditional manner. We must believe in what we are doing, and then our customers will start believing us, too.

Providing an outsider's view on the industry, the chief executive of Science City York, Professor Nicola Spence, who is also an expert in virus diseases of horticultural crops and a Fellow of the Food and Environment Research Agency, said the industry should not be scared of failures in its search for successful new ideas and strategies.

She said there was a need for new collaborations co-created between the whole supply chain to find better ways of producing food.
"You must encourage people to come up with new ideas and give them room (and resources) to test them out, however silly they may sound at first. – and then take forward the best ideas. They might be the ones that will revolutionise the industry.
"Form on-farm innovation teams and look at all ideas with new eyes, using other people collecting through crowd-sourcing techniques via social media, maybe, to co-create solutions."

Prof Spence urged the pig industry to encourage people at all levels to come up with these new ideas and to look and to learn from what other unrelated sectors were doing to improve production and marketing for innovations.
She also called on the industry to rebuild the connection between basic research and applied science to create modern and innovative farming systems.

Adding a continental touch to the proceedings, Dutch pig producer Hennie Smeenk, who farms at Haarle, near the German border, said he would like to see a future with widespread producer agreement, so pig farmers could set the price, rather than having to take the price they were offered.

"We also need to think about the growing markets in China, southern Africa and South America, as well as India and how we can use the pig better to supply them with their needs," he said.
"But, most importantly, I think we need to try to reach a situation where we have agreements that allow farmers to keep control in their own hands so they make their own decisions."

Agreeing with Mr Smeenk's attitude towards new markets, Jim Brisby, sales and marketing director of Cranswick Country Foods, predicted that "world markets and worldwide protein demand would have an increasing impact on what the European pig industry did in future.
In addition to improving eating quality and providing consumers with more provenance, producers should be focusing on food safety, as well as environmental sustainability.

He said there was also a need to open up the supply chain to make it fairer and more transparent, with producers finding better ways to work with retailers, as well as processors, while understanding that while demand was growing, consumer trends were changing with the introduction of Internet shopping and the digital revolution leading to changing shopping and eating habits.
In addition, many consumers were looking for more for less, so it was vital producers and the whole supply chain became more efficient and provided a fair share for everybody.

JSR director of science and technology Dr Grant Walling summed it all up by saying: "We need to use all our energy to better ourselves, rather than complaining about others in the market place – and work hard to ensure all our products are "fit for fork".