UK pig farmers warned of mycotoxins in feed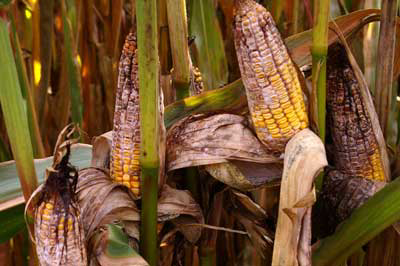 UK pig farmers are being urged to look out for signs of mycotoxin poisoning after tests revealed extensive feed contamination in the country.
Mycotoxins, which are caused by moulds and fungi and severely affect pig performance, were found in 90% of grain sampled by animal health company, Alltech UK. Straw bedding was also highly contaminated with multiple mycotoxins.

The cold and wet harvesting conditions of last year are blamed for not only a higher presence of the organisms than in previous years, but a greater variety too. Terry McArdle, pig technical sales manager for Alltech UK, says mycotoxins can quickly undermine pig health, productivity and reproductive performance. "A mycotoxin challenge can be difficult to identify at the best of times, but this year keeping on top of the problem will be particularly tough," he said.

Mark Hawe, pig adviser with the Department of Agriculture in Northern Ireland, says the signs can often be mistaken for those of leptospirosis. "An obvious symptom is poor fertility with sows returning to heat but often not all sows and gilts are affected."

The performance of growing and finishing pigs can be affected too. "It has an impact on feed conversion and growth rate so it will take longer for growing pigs to achieve their finishing weights," explains Hawe. A combination of poor fertility and growth are more likely to point to mycotoxin poisoning. "In herds where there are more sows repeating or where growing pig performance has dipped, farmers need to question if mycotoxins may be playing a part," says Hawe.