UK finishing performance closes gap on competition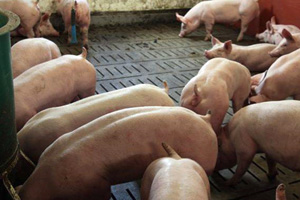 Latest figures show the performance of the finishing herd in Britain is still improving and the gap is closing on competitors with regard to finishing performance.
The latest report from BPEX on the Cost of Production in Selected Countries also shows that Britain is ranked fifth in terms of daily liveweight gain, ahead of the Netherlands, France and Germany. In terms of the feed conversion ratio it is still running a little behind the Netherlands, Spain and Denmark.
The report, which covers the year 2012, has now been published and includes figures from much of Europe together with Canada, Brazil and the US.
BPEX head of knowledge transfer Andrew Knowles said: "Breeding is still the area of greatest opportunity. If we were to improve the average breeding herd performance to match the EU average, it would improve the cost of production by 5p per kg. That means taking pigs weaned per sow per year from 22.8 to 25.41."
BPEX is the organisation for pig levy payers in England and is a division of the Agriculture and Horticulture Development Board (AHDB).