Topigs World Pork Event focused on feed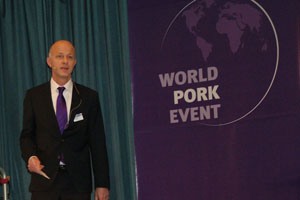 With around 150 guests from 27 countries the second World Pork Event had good attendance in Berlin. The current difficult feed situation in the world was the focus of this year's seminar held in Berlin.
Martin Bijl, CEO of Dutch pig breeder Topigs (photo), opened the conference with a small video of the late Steve Jobs introducing the iPad.

Not quite comparable, but he said Topigs also wants to be at the forefront of the latest developments in pig breeding. "With the introduction of the iPad potential buyers already spent the night in front of the shops to be the first to buy the product. I don't see this happening with new pig genetics, but it is still a dream of me," he said.

The slogan of this year's World Pork Event was "Reduce your feed costs now!" and to give an overview of what is happening and what might happen in the near future with feed prices several speakers were invited to give their vision.

Joe Kerns, president of Kerns and Associates in the US, gave an overview of the current market in raw materials, especially corn, wheat and soybeans. He predicts a price fall in the second half of next year.

"The corn price will come down under normal [weather] circumstances and maybe even become very low," he said.

According to Kerns in the US the ethanol mandate is reached and an oversupply of ethanol is in sight. Also gasoline use is down in the US, and thus less ethanol is needed.

Also the high prices have of the last years have made incentives to increase corn area, which is not going away.

Regarding soybeans the situation less favourable for the feed sector. Although South America will see a record soybean crop of 80 million tonnes this will largely be consumed buy China due to increased demand from the pig sector.

"The US may run out of stocks up until September 2013," he said. "This will especially affect the US poultry sector."

Russia gloomy
How different is the situation in Russia, according to Andrey Sizov, owner of SovEcon, Russia's oldest consultancy in agribusiness.

Sizov said that Russia's growing involvement in grain trade is not accompanied with an increase in grain area and crop yields. "Areas are going down and yields stay behind," he said.

The growth of the pig and poultry numbers will be a new challenge for Russia's grain sector. "Agriculture is getting less attractive for investors, which is another problem," he said.

More efficient pigs
Pig breeder Topigs picked up the challenge to encounter the current and future obstacles in animal nutrition. They developed the total feed efficiency concept (TFE).

TFE effectively is a benchmark calculated from the equation of annual feed purchased divided by annual kg of liveweight sold for slaughtering (including sows and piglets).

Topigs' Chief Technical Officer Hans Olijslagers said that TFE at their trial farm is 2.7 and their challenge is to reduce this to 2.4 in 10 years time.

"Apart from genetics, we want to minimise leakage in sow replacement, sow fertility, sow feed efficiency, piglet mortality, finisher mortality, finisher feed efficiency and yield losses," he said.

More soybeans from Brazil
Brazilian consultant Luciano Roppa gave a very inspiring presentation about Brazil's agricultural production. He said that Brazil is going to export more pork to Japan next year, because Japan approved the Brazilian quality.

Production costs for pork in Brazil are about $1.18 to $1.33. However, pig production on average is loss making. That is why 60,000 sows have been killed, due to poor piglet prices.

The best pig farm in Brazil produced 33.95 piglets per sow per year. The winner was a 200-sow farm and asked for his secret for this result the farmer said: "People".

Brazil is also moving from corn to soybean production. "If profits of corn are $192 per hectare and for soybeans are $686 per hectare, what will Brazil's crop farmers plant?" he asked the audience.

Another interesting advice Roppa gave, was that ingredients for feeds should be paid according to their nutritional content and not for a price per tonne. "You need to pay for exact nutrient specifications, not for the average kg," he said.

China insatiable
Stationed for already five years in China as a representative of Continental Grain Company, Nick Rosa gave some insight in the real situation in China.

"Problem in China is the numbers. How to believe these?" he said. "Chinese pig slaughter of the ten largest producers is forecasted to grow from 35 million in 2015 to 100 million in 2020. But this is impossible. The evolution in numbers of pigs per sow per year stagnates at 13.9 and although higher results are possible, but only 15% of production is on an industrial farms."

"And besides that, where do they going to get the corn," he said.