TOPIGS raises bar to 28.8 weaned piglets per year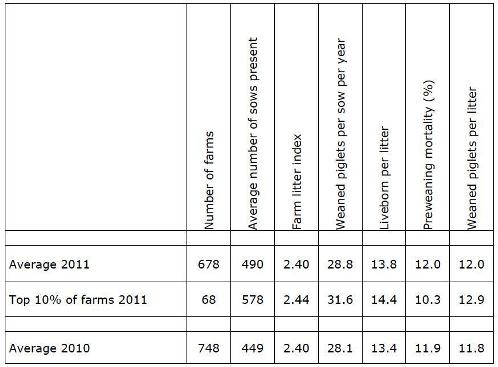 Pig farms with Topigs sows produced an average of 28.8 weaned piglets per sow per year in 2011. The top 10% of farms achieved 31.6 weaned piglets per sow per year. This was revealed in the technical results from 678 Dutch farms with a total of almost 332,0000 sows.
Last year the production of Topigs sows rose by 0.7 piglets. This is a bigger increase than in previous years where the average was 0.5 piglets per year. Despite the increase in production, piglet mortality remains at roughly the same level as several years ago. The sow replacement rate has not risen either.
A growing number of farms are weaning 30 or more piglets per sow per year. In 2011 a total of 164 farms achieved this and 16 farms achieved a production of 32 or more piglets per sow per year.
The results have been put together using overviews from the sow management system sent in by Dutch sow managers. In addition to this the overview includes data from farms with their own breeding that are linked to the Pigbase system of Topigs.