Topigs Norsvin: New boar stud in Minnesota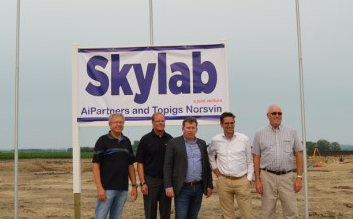 Breeding company Topigs Norsvin has formed a partnership, Skylab LLP, with AI Partners of Morris, MN, United States, to construct a new 335 head boar stud.
The investment by Topigs Norsvin USA will be over $1,000,000. The stud will contain both terminal and maternal lines. Mike Terrill, CEO Topigs Norsvin USA, stated: "Our business success and strong relationship with AI Partners, and the continued demand for our products, propelled our decision to make this strategic investment."
Boar stud with high health & technology
The new boar stud will operate with technology and expertise by AIM Worldwide, a global Topigs Norsvin organisation that is responsible for the quality and production of more than 8 million doses of semen per year. Semen quality is controlled by CASA systems and production is certificated following the high quality standards of AIM Worldwide. The stud will use air filtering and is air conditioned assuring high health and the best environment for the boars.
Martin Bijl, CEO of Topigs Norsvin International, spoke of a logical step in the development of the US company. He stated, "We see a growing demand of Topigs Norsvin genetics in the market; especially the new parent sow line being introduced at this moment is creating a lot of new clients. With this AI stud we are able to realise the growth in sales now and in the near future."
US: One of the leading pork producing markets
Chairman of the supervisory board, Dutchman John Lorist, added, "The USA is one of the world's leading pork producing markets and therefore one of our strategic markets. With the new AI station we are able to provide our customers the best genetics in the best possible way. We are confident that our team in the USA, together with all support of head office, will expand our market share. We introduced a new product and together with the knowledge and support we offer, this is a perfect package that fits perfect to the demanding market in the USA."