Topigs genetics for the Vietnamese market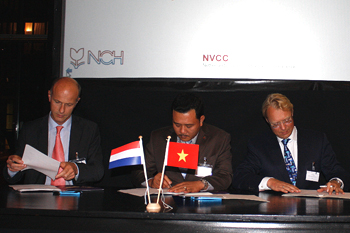 Vietnamese company Thiên Thuan Tuong will start breeding Topigs genetics for the Vietnamese market. With the signing of the contract, top level genetics will now become available for Vietnamese pig producers.
Thiên Thuan Tưong will breed Topigs 40 sows that are famous for their robustness and high-level performance in a tropical climate like Vietnam's. The feed efficient Talent finisher boar will also be available on the Vietnamese market. The breeding stock to start production of Topigs genetics in Vietnam will arrive in April 2012 from Topigs' high health nucleus farms in Canada.
De Heus Vietnam will provide the feed for the breeding farm of Thiên Thuan Tưong. Topigs genetics will be available for the market through De Heus Vietnam. This means that the clients of De Heus Vietnam will be provided with the best genetics. 'We are very pleased to feed the breeding farm of Thiên Thuan Tưong and to play a role in providing our clients with these top genetics' says Gabor Fluit, general manager of De Heus Vietnam.
'Topigs is pleased to enter into the relationship with Thiên Thuan Tưong, says Martin Bijl CEO of Topigs. 'It is one of the most professional farms in Vietnam. They will construct a state-of-the-art farm in a less pig-dense area that has all of the facilities needed to breed top quality TOPIGS genetics.'
With a production of more than 1,100,000 crossbred gilts and over 7 million doses of semen per year, Dutch-based Topigs is one of the biggest genetics suppliers in the world.