Topigs and Norsvin merger announced at WPX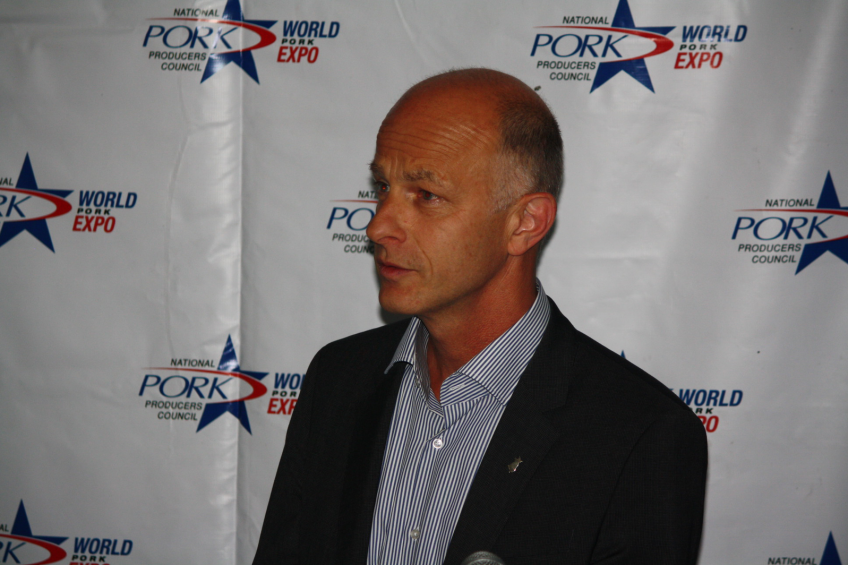 Dutch breeder Topigs International and Norwegian breeding company Norsvin International have joined forces in a merger that was announced at World Pork Expo, in Des Moines, IA, United States.
The new company name Topigs Norsvin was proudly revealed by Martin Bijl, the new company's CEO, Bjarne Holm, chief development officer and Mike Terrill, president and CEO of the new company in the United States.
The merger of these two companies has resulted in a swine breeding company with annual revenues exceeding US$179 million (€130 million). The head office will be in Vught, the Netherlands.
Several domestic activities within Topigs and Norsvin, like Topigs Nederland, Varkens K.I. Nederland and Norsvin SA, are not part of the merger.
Both organisations are farmer-owned, with an identical philosophy of paying dividends through genetic progress from applied research and development (R&D). Farmer-owned meat processors and a feed supplier are minority shareholders.
New CEO Martin Bijl emphasised that the merger does not mean that there will be any cost-cutting operations. Instead, both companies are aligning their R&D activities for more and smarter investments to accelerate genetic progress and develop new products. The combined R&D budget is about US$25 million/€18 million, equalling 14% of the revenues.
The combination of high-throughput phenotyping, large-scale computer tomography of boars, global nucleus breeding, massive gathering of production data and genomic selection will accelerate genetic progress and add value to the entire production chain.
Bijl also pointed to the two complementary product portfolios. Where Topigs has a long history of breeding for robust, easy-to-manage sows, Norsvin has had a long background in developing productive, lean and efficient lines since feed costs in Norway have traditionally been very high.
He added that also the market positions are complementary with Topigs' global presence and Norsvin's solid presence in Scandinavia, the US and the Baltic region.
The new company expects the global genetic business to become more concentrated. It is Bijl's expectation more acquisitions and mergers will follow in the currently still very fragmented market. The current global market share of Topigs Norsvin pigs is about 12.5%, Bijl added – about one out of eight pigs has the company's genetics.
The company has a combined production of over 1.55 million crossbred gilts and over 8 million doses of semen per year. Yearly 90 million slaughter pigs are produced with Topigs Norsvin genetics.
The company's new website is Topigs Norsvin, www.topigsnorsvin.com.