The Brazilian pork crisis: What to do to stay alive?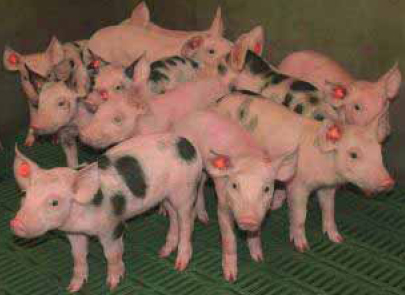 Once upon a time, Brazil was the place where pig farming paid off, no matter what. But nowadays, even Brazilian pig farming is down to reducing costs to keep ensuring productivity gains. One of the first items to be checked is feed conversion, as feed answers for 80% of total production costs.
Brazilian pig farmers have not forgotten what was probably the worst crisis in the pig industry in the last decades – it happened as from 2003. In the years prior to that, an increase in the exports had pushed the sector forward, which led to an exaggerated growth in the production. The number of slaughterings jumped from 24.9 million heads in 2001 to 36.1 million in 2003, a 45% increase.
What followed in the years after was a nightmare. With these surplus pigs supply flooding into the market, prices fell heavily, and the high-tide tendency turned upside down.
The situation became one of the worst ever due to three factors: 1. Production costs rose due to an increase in the prices of the main supplies; 2. There was a currency appreciation, triggered by the political situation; 3. There was a reduction in the consumer's purchasing power.
The result was a long crisis period, a herd reduction and an exit from the business for less capitalised producers.
Solutions
What to do in such a situation? It is necessary to carefully read market signs for a start. In Brazil, for example, there have been some significant changes in production and trade in the last 15 years. One of those changes had a geographical nature. Pig farming increased in less traditional regions, such as the Minas Gerais Triangle region, at Minas Gerais state, which is currently the fourth largest producer.
Production also increased in the soy and maize producing regions, in the Brazilian center-west (Goiás and Mato Grosso states). The advantages for producers in those regions was a reduction in e.g. feed prices; these are increasingly higher in other places due to freight costs.Another significant change was the production profile. During the 90s, pig farming was regarded as a secondary, typically family-run activity, continuing with low investments and technification level and poor planning. At the turn of the century, it became an entrepreneurial activity, with high investments, aiming at return-on-investments, and with a high level of technology and planning.
Economic results
It is necessary to understand that, nowadays, pig farming needs a management fully aimed at the economic results of the business, with a focus on costs and on the improvement of profit margins, well-defined aims and targets and, mostly, carrying out a cost-benefit analysis for all investments. Luiz Grigoletto, veterinarian and consultant specialised in the pig sector, explains: "The main things we should do are inside the farm gate: a better planning of the investments, good technological updating, reaching good productivity indexes and having an accurate control of costs."
Grigoletto stresses that pig farming is a cyclic activity. Because of that, the producer needs to prepare himself during the profiting times so as to face the sudden and periodic crisis. Such preparation comes from investment planning and the effective management of production costs. In order to know the timing, and how much to invest, one needs to read the signals both from internal and external markets. Grigoletto explains that pig farming gets positive results between 8% and 12% on average. Therefore, any investment above these percentages becomes a great risk for the activity.
Feed prices
Grigoletto says that, nowadays, producers are able to significantly influence feeding and in sales prices of live animals – the two main factors in pig production. Especially feeding is important, as feed costs answer for 80% of the total production costs. Besides, prices of the main feed ingredients like maize and soy bran, change according to winds of external and internal markets.
Improvement of feed conversion is crucial to reduce the impacts of feeding costs. He says, "For example, we may have a farmer producing a 120 kg pig with 276 kg of feed, at a feed conversion rate of 2.30. His neighbour is producing an animal with the same weight, but employing 294 kg of feed, and a feed conversion rate of 2.45. In this example, we identify a more than 6% difference in the feeding costs, and one of nearly 5% in the total costs of the animal."Grigoletto continues, "There is no doubt that a productivity increase – which is to increase production volume with the same production base – results, in general, in better profitability. However, this must not be done at any price. One must observe feed conversion first. If this is not satisfactory, then this is the first aspect to be corrected, as this correction creates a more positive impact on profit margins than an increase in productivity."
Investing in feed conversion
To reach the ideal feed conversion values, Grigoletto suggests paying special attention to those factors that directly influence this index, feed consumption being one of them. Possible strategies include choosing genetic lines specifically designed for better feed conversion; having carefully elaborated nutritional programmes; and using equipment that reduce feed waste.
Housing conditions are also essential. Points to look at include providing the animals with clean and well-ventilated barns; having an adequate space according to the pigs' weight, allowing them an easy access to the feeders and having good quality water available. Grigoletto also emphasises that it is necessary to have a good programme for disease control, since diseases directly influence the daily weight gain rates and, consequently, the feed conversion. Mortality can also be a production bottleneck. Grigoletto suggests acceptable mortality levels for different production phases, see Table 1. The global analysis of all production data also allows producers to set new production targets – more on this in Table 2.
Personnel
Apart from feeding costs, two other factors impact a farm business. One is its health status, which can increase costs, reduce productivity and can close a farm down. The second is personnel. Juan Maqueda, agronomist and consultant in pig farming management in Latin America, says, "Even though labour costs represent only between 4% and 6% of the production costs, we depend on people 100%, mainly in the reproduction and maternity areas."
He adds, "It is necessary to invest in labour, not necessarily through wage increase, but through organisation, capacity-building and motivation, since an inadequate job will result in inefficiency and higher production costs."
Costs course
Brazilian producers are already starting to feel the first effects of the price increase of the feed ingredients. Between December 2010 and January of this year, maize quotations showed a 17% increase in the domestic market. This means that it is time to be cautious – as even though internal and external pig markets are still warm, profit margins have started to reduce. Some specialists do not expect that the price of commodities will go down during this year.
Grigoletto suggests the creation of cooperatives for the purchase of supplies, something that is currently a trend among independent producers. An example of it working out well comes from the Minas Gerais state. Since 1985, pig farmers from the Piranga valley managed, through the formation of coops, to strengthen their production and to become Brazil's largest centre of independent producers. Counting highly technified farms and a strategical location (close to two important ports – at Espírito Santo and Rio de Janeiro states), producers manage to keep the regional economy moving. The activity in this region includes 60,000 sows, answers for 30% of the state's production and directly and indirectly employs 12,000 people.
Grigoletto explains that the association has become an effective alternative for producers, with high bargaining power they achieve the purchase of large volume of supplies. The example shows that individual production is taking a new course. It comes at the right moment – because the time is now.