Study by Dr Yannig Le Treut from Lallemand awarded: Biogenic Amines in pig liquid feed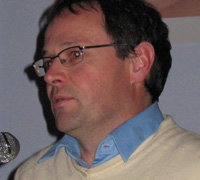 Lallemand Animal Nutrition announced that, for the second year running, Dr Yannig Le Treut, DVM, has been awarded the Patrick Pommier Short Communication First Prize at the Annual Congress of the French Swine Veterinarians Association (AFMVP), (2 Dec).
The rewarded study, titled, "Biogenic Amines: myth or reality?", scrutinised the presence of
biogenic amines in pig liquid feed in 33 commercial pig farms. This unprecedented survey indicated that biogenic amines are an underestimated feed safety issue in swine nutrition with many practical implications like feed intake, mortality etc., and gives some clues to reduce the threat. This award is a great mark of recognition of Lallemand's dedication to advanced research in swine nutrition and to think outside de product's box!
Dr Le Treut was praised for his ability to always explore new fields of investigation with originality and scientific rigor. He commented: "I am honored by this Prize and the recognition of these new areas of research: at a time when antibiotic usage in swine production is challenged, I am particularly pleased that such innovative topics were worthy of interest and to see that new preventive approaches could be considered and recognized by pig vets."
Biogenic amines are toxic compounds resulting from the degradation of amino acids in feed by certain microorganisms (enterobacteria, coliforms..). In swine nutrition, little is known about the presence and significance of these substances in liquid feed and their impact on pig performance and health.
To summarise, the main findings of the wide on-farm survey (33 French farms), conducted by Lallemand over 2009-2010 were that:
Finally, the authors mention that the use of the probiotic bacteria Pedioccoccus acidilactici MA 18/5M (BACTOCELL®), associated to thorough disinfection and cleaning of the equipment, brought down the level of biogenic amines contamination in farms, improving feed intake and digestive troubles (diarrheas), and mortality.
The Patrick Pommier Prize is supported by the Technical Center of Animal Production and Agrofoods (CTPA). The Jury, consisting of the whole assembly – 120 vets specialized in swine medicine- voted among 19 short communications.