Keeping sows in good shape from one reproductive cycle to the next is the number one priority to ensure consistent litters of healthy, well-developed piglets. Sows that are too fat, too thin or that fluctuate between the extremes are at risk of compromised performance. It takes careful feed management to get the balance right.
The challenge is that, during the first 4 to 5 reproductive cycles, the sow is still growing. During each gestation, her weight increases by an average of 20kg – tempered by the lactation period, when a weight loss of 6 to 9% is standard (Table 1).
A stable body condition is essential at every stage, from insemination and conception to lactation. That means minimising fluctuations in weight and maintaining back fat thickness at around 16-19 mm. Once farrowing has taken place, body condition must be rapidly restored to prepare the sow for the next cycle.
The link to productivity and life span
Poor management of body condition has severe consequences for sow productivity and lifespan. Table 2 compares the performance of sows of optimum condition with sows that are underweight. The figures speak for themselves. Skinny sows are not only more likely to suffer from shoulder ulcers. The rate of still births at farrowing is substantially higher.
Fat sows, on the other hand, are associated with increased feed costs and are at greater risk of farrowing problems, which may mean they need manual help to give birth.
Overall feed consumption is also higher in those sows with major weight variations through the cycle. Where weight loss is significant after farrowing, fast recovery is critical to avoid an increase in the number of non-productive days before the sow is ready for the next insemination.
Figure 1 –  Evaluation of sow body condition by pressing flat hand on hip bone, spine and ribs.

Aim for the ideal
The importance of continuous evaluation and regulation of body condition cannot be stressed enough. On the ideal farm, at least 90% of the herd should have the ideal body condition to optimise uterine and foetal development and secure uniform piglet production.
Efficient feed management throughout the reproductive cycle is key to achieving the best results (Figure 2).
Figure 2- Feed guidelines for gestating sows based on body condition.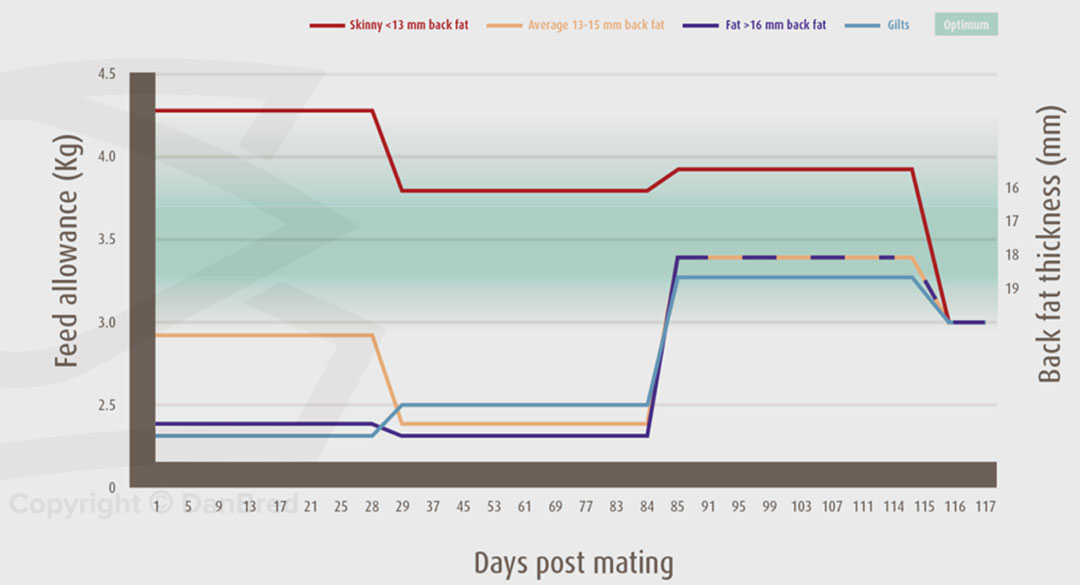 Source: DanBred Feeding Manual
The protein, lysine, phosphorus and calcium in the feed play an important role at each stage (Table 3), along with soluble and insoluble fibre and additional vitamins and minerals.