Sow health status impacts piglets' performance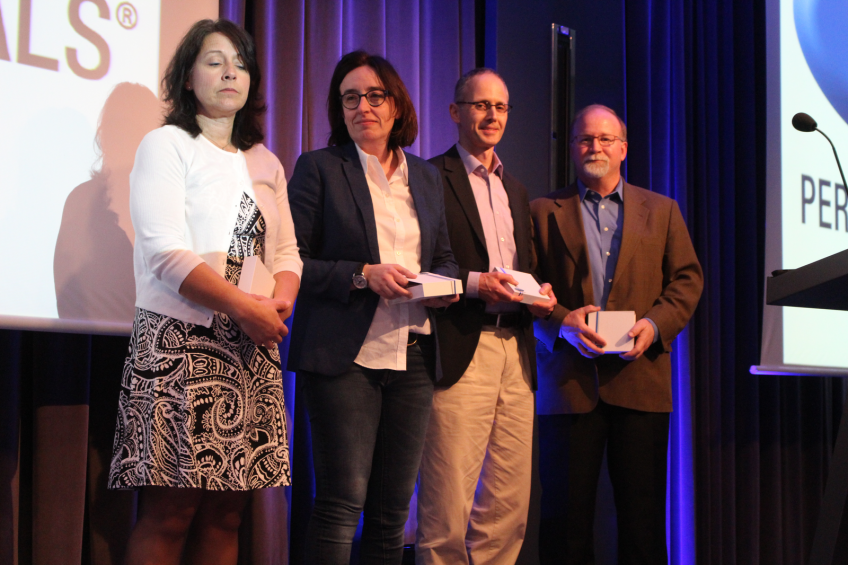 The health status of sows is very important for the health and growth performance of their piglets. This became clear at the 8th Feet First Seminar in Castelldefels, Spain. Themes were epigenetics, trace minerals and inflammation.
The event, held close to Barcelona, was organised by organic trace minerals producer Zinpro, attracted about 100 participants from the international swine business and featured 4 key speakers.
Water problems for sows
Berta Garcia, DVM, is swine production director at a multisite swine producer in north western Spain. She explained about a problem that occurred at a reproduction site, where production was substantially lower than on average estates. A farrowing rate of around 75%, a pre-weaning mortality of 20% and a replacement rate of 45% to name a few – but nobody understood why.
She dived into it, and after a long and intensive search she found that the water quality was to blame. Especially the water's conductivity proved to be a problem – something that could be countered by reversed osmosis as well as a pre-filtering system.
With a high conductivity, the presence of certain minerals could still be a problem. She therefore established some water guidelines, with e.g. a pH preferably having to be lower than 6, and water having to be low in iron, manganese and aluminium.
Mineral deficiency in piglets
Christof Rapp, PhD, is regional manager, Europe, for Zinpro, the Netherlands. He dived into epigenetics – or in other words, the capacity to switch on certain genes during an individual's lifetime. 'Transgenerational epigenetics' take a special role here: how are the piglets' gene expression affected by what is fed to the sow?
Christof Rapp
[Photo: Vincent ter Beek]
He presented a series of results of how minerals fed to sows can influence results in piglets. Findings included that piglets were observed to have an increased serum IgG, an improved gut morphology, an enhanced gut function, an increased weaning weight, and more uniform weaning weight.
Stress is not always bad for pigs
Janeen Salak-Johnson, PhD, is an associate professor of stress and environmental physiology and wellbeing at the University of Illinois, USA. She explained why stress is not necessarily always bad for animals: when they experience acute stress, action is needed to the benefit of the animal.
Janeen Salak-Johnson
[Photo: Vincent ter Beek]
Chronic stress, however, is a different story, she argued. This can go on for a long time, can lead to an impaired functioning of the animal and eventually disease.
Also in her examples clearly the message was: what happens to the sow, affects the piglets. She had sows placed in situations with extra light, a meal with probiotics and different levels of in-feed fibre. These were all found to affect stress levels. She concluded that it is possible to alter progeny via gestational treatment.
Last speaker was Terry Ward, PhD, global director of research and nutritional services, Zinpro, USA. His presentation revolved around iron – and he touched on the question of whether or not it is a good idea to inject newborn piglets with supplementary iron, or whether it might be better to review this practice and opt for feeding a handful of mixture containing iron, to allow young piglets to root.