Sow group housing: Conversion rate in Belgium at 36%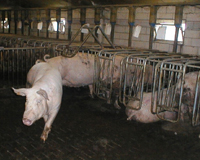 About half of Belgium's sow producers have no plans to convert to group housing. Recent research in Belgium's main pig production region Flanders revealed that just under 36% of Flemish sow farms has so far converted, with an additional 13% having plans to do so.
The Belgian pig industry has just over one year left to convert to group housing as this system will become mandatory for all sows as from four weeks after insemination, until one week pre-farrowing, throughout the whole of the European Union as from January 1, 2013.
The results were presented recently by researcher Frank Tuyttens, at the Institute for Agriculture and Fishery Research (ILVO). He sent a survey to sow farmers in the region, having more than ten sows – and 248 cooperated in the research.
Deadline
With about 49% already converted or having plans to convert to sow housing in the imminent future, Tuyttens concluded that the 2013 deadline will be missed by many. He pointed out that a lack of financial resources is a major cause; in addition, many producers appear to be reluctant to embrace the principle of group housing.
He noted that predominantly older sow producers think about shutting up shop, whereas others consider to move into pig finishing rather than sow farming. This may lead to a different demand and supply situation in Belgium.
Conversion rates
Conversion rates have risen over the years, the research shows. During a first survey, in 2003, the conversion rate was 10.5%, with an additional 4% planning the conversion.
When measured in sow numbers, 48.6% of all sows in Flanders are now being held in group housing, compared to 34.1% two years ago.
Of the sow farms that did convert, sow farmers chose:
·
Free access stalls (48.9%)
·
Short stalls with trough or floor feeding (23.3%)
·
Electronic Sow Feeding – individual recognition (10%)
·
Electronic phase feeding – no individual recognition (5.6%)
·
Electronic feeding stations (1.1%)
In general, the short stalls with trough or floor feeding received the marks, with on average an appreciation score of 3.8 on a scale from 1 to 5. Free access stalls came second (3.7), followed by Electronic Sow Feeding (3.4).
Planned investments appear to be predominantly free access stalls as well.
Preferences
The survey also aimed to find out system preferences. In the group of those farmers not converting, over 60% responded to have a strong or very strong preference for individual housing systems, with at least an additional 30% saying they did not have any preference.
In the group farmers that did convert, over 40% indicated to have a strong or very strong preference for group housing – with an additional 20% saying they did not have a preference.
Group housing elsewhere

Sow group housing has been mandatory in Sweden since 1994, in Great Britain since 1999. In the different countries throughout the EU a major difference can be noted. Three years ago, the Netherlands had reached an average of 56% conversion rate, studies last year showed Denmark to be at 53% and Germany at 50% plus 30% partial conversion. In France, conversion rates are at about 30%,
click here.
In 2017, Smithfield Foods in the USA aims to have phased out individual housing for pigs.