South Korean ambassador to US urges passing trade deal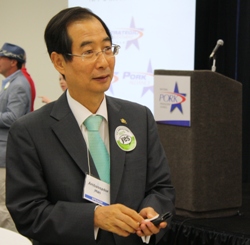 In a strong speech at World Pork Expo in Des Moines, Iowa, South Korean ambassador Han, Duck-soo, strongly urged US Congress to ratify the pending US-Korean Free Trade Agreement (KORUS). Ratification is considered of major importance for US pork producers. The full text of his speech can be read below.
"A good morning to you all.
I'm very pleased that Congressman Tom Latham is here. He is a strong supporter of the Korea US Free Trade Agreement and I am very grateful to him for that. I'm grateful to the NPPC for inviting me to be with you today and to the US Chamber of Commerce for arranging this visit to Iowa.
Talking to pork producers about trade is like talking to your wife about a trip to the Mall of America. You don't have to spend a lot of time convincing her that it's in her interest.
In April, I had the privilege of visiting a hog farm near Benson, North Carolina, owned and operated by John Langdon, his wife Eileen, and their three children, John Michael, Hunter and Megan.
The Langdon family has been farming for four generations. Last year, the North Carolina Association of Soil and Water Conservation Districts named them the Outstanding Conservation Farm Family of 2010.
John was kind enough to show me around his place, where he can run as many as 8,044 head of feeder to finished swine. He was excited about the KORUS FTA and the economic benefits it promises to him and his family.
In fact, the pork industry is one of America's strongest advocates of free trade, which it recognises as a key to economic growth and long term prosperity for American farmers. That was evident last December, when the NPPC agreed to a two year postponement of the day when Korea's tariff on most pork imports is eliminated. Last year's NPPC President, Sam Carney, said then that pork producers needed to give a little. We needed to take one for the team. That was gracious and I owe you a debt of gratitude.
KORUS's current status
Let's review what has happened in the past year. About two weeks after last year's Expo, President Obama met with Korean President Lee Myung bak during the G 20 Summit in Toronto. They noted the changes that have occurred in US Korea trade flows and decided that the time had come to revive the KORUS FTA and put it into force.
One of the changes I'm referring to is that the United States used to be Korea's largest trading partner. But China overtook it in 2004 and Japan and the European Union have also overtaken it since then.
So, Presidents Obama and Lee instructed their trade ministers to get together and resolve the remaining differences – which centered mostly on auto exports – and put the FTA on a course toward ratification. The auto industry's concerns were put to rest in the fall of last year and a supplemental agreement was reached on December 3. With that breakthrough, the KORUS FTA became acceptable to all major stakeholders.
I won't go into the details of what has happened since then. I'll just say that there has been a series of disagreements over when, how and under what circumstances the KORUS FTA should be submitted for Congress's approval.
That is unfortunate, because we're running out of time. Korea's free trade agreement with the European Union takes effect on July 1st, and Congress adjourns for its August recess a month later. If KORUS isn't submitted and ratified before then, the chances of its ever being ratified will be diminished considerably, because of Congress's busy legislative schedule for the remainder of this year and because 2012 is an election year.
KORUS and pork
That would be unfortunate. The US pork industry would lose its dominant position in the Korean market, as Korea's tariffs on European pork imports will start getting lower this year and will be phased out entirely in 2016.
Meanwhile, Korea's tariffs on Chilean pork have been getting lower every year since 2004 , when an FTA between those two countries took effect. In 2009, Chile supplanted Canada as the second largest exporter of pork to Korea. Korea's 2010 tariffs on fresh and frozen Chilean pork were 9.5% and 8.4% respectively, compared to 22.5 and 25% for American pork.
This explains, at least in part, why the value of US pork exports to Korea fell by 30% between 2008 and 2010 – from $229.5 million to $160.9 million. In 2014, Chilean pork will enter Korea duty free. And Korea and Canada are negotiating a free trade agreement of their own. The jump in exports to Korea that you've seen this year is, of course, a consequence of the Foot-and-Mouth Disease outbreak there. Your exports in the first quarter of 2011 were almost as much as in all of 2010.
KORUS/Agriculture
America's farmers and ranchers may have to more to gain from passage of the KORUS FTA than any other industries. Korea is a small country of about 60,000 square miles. That's about the size of Georgia. It's mostly mountainous and doesn't have enough arable land to grow the food it needs to feed its 48 million people.
Our need to import food and farm products is growing, because we are an increasingly affluent society with a growing interest in good food and drink from other parts of the world. Pork, beef, poultry, whiskey and wine, fresh fruits and vegetables, grains and oilseeds – these are some of the commodities for which there is growing demand in Korea.
American farmers and ranchers are well equipped to meet that demand, but they need to be able to compete on even terms with their counterparts in Europe and elsewhere. The KORUS FTA will give them that ability. About two thirds of Korea's agricultural tariffs, which average 48.6% will disappear the day it takes effect. Most of the remaining third will be phased out gradually.
USDA expects that this will increase employment by 29,000 jobs, just in the livestock sector. A study by Iowa State economist Dermot Hayes predicts that 3,600 of those jobs will be in the pork industry and related businesses.
That study also predicts that the KORUS FTA will bring about a $10 increase in live hog prices.
KORUS's general benefits
As for the US economy as a whole, the US International Trade Commission predicts that implementation of KORUS will increase exports by as much as $11 billion, and US GDP by as much as $12 billion.
The US Commerce Department predicts that it will create or preserve about 70,000 jobs, just in manufacturing. A study released by the office of Senator Ron Wyden of Oregon holds that the agreement could create as many as 280,000 jobs.
I'll be honest with you: I can't foretell how many jobs it will create. Nobody can. But I do know that increased exports cause job growth and retention. That has been proven time and again.
The stakes for both our countries are high and time is running out. A failure to finalise the agreement – and finalise it soon – will impose further hardships on your industry, which has already suffered more than its share of them. Economic growth and job creation are certainly the most important reasons to support ratification of the KORUS FTA, but they're not the only ones.
Strategic benefits
Last year, we observed the sixtieth anniversary of the start of the Korean War. During three years of combat, about 2 million American soldiers went to Korea and fought under some of the most horrendous conditions known to man.
Some 36,000 of them gave their lives so that a little country on the other side of the world could be free. We are free, and we're prosperous. Korea today has a $1 trillion economy, the world's fifteenth largest. I daresay that would not be the case if the United States had left us to fend for ourselves after the war. You stayed with us, and you're still with us today, ensuring peace and stability on the Korean Peninsula and the region.
Asia is the world's most economically dynamic region wide economic growth averaged 8.3% in 2010 and is expected to average about 7% this year and next, while the global growth rate will be about 4.5%. Nonetheless, northeast Asia remains an unpredictable and tumultuous part of the world, as demonstrated by North Korea's two unprovoked and lethal attacks on our territory last year, and by its relentless pursuit of nuclear weapons.
The stabilising influence of the United States is still needed there, and ratification of the KORUS FTA will send a clear message that the US intends to stay engaged and maintain its influence in the region. Ratifying the KORUS FTA would send a message to East Asia and to the world that the US is a serious player in the global trade regime.
Not ratifying it would lead other countries to wonder if negotiating free trade agreements with the United States is worth the trouble. That is the message that 27 former high ranking federal officials sent to the congressional leadership in April. They included former secretaries of state, defense, and commerce, former US trade representatives and former commanding generals of US Forces in Korea.
Widespread support
The disagreements in Washington that have delayed the FTA's ratification are ironic in that it enjoys almost unanimous support. The administration supports it. A majority of Senators and House members of both parties support it. Virtually the entire business and agricultural communities support it. Major labor unions support it. Most big American newspapers support it. Time is running out and the stakes are high. America's pork producers have been among the most vocal and active proponents of this agreement.
I'm here to ask you to not let up. It is imperative that you let your members of Congress know that you want them to sort out their differences with the White House and ratify the KORUS FTA now!
Representing some 67,000 producers, NPPC is an economic force to be reckoned with. Members of Congress are well aware of that. If you make your voices heard, they will listen.
Conclusion
From every standpoint, the KORUS FTA presents a once in a generation opportunity to win significant and lasting gains for both our countries. At the end of the day, the FTA is not about us in government – it's about you– farmers and ranchers, your families, your neighbors, your employees and partners, on the front lines of American agriculture – a stalwart of the US economy.
Whatever action is ultimately taken on the FTA will affect you directly and for a long time. It will also affect US Korea relations directly and for a long time. Whether that will take the form of significant economic gains for hundreds of businesses here and in Korea, or of a missed opportunity, is up to us.
I know some of you, and I know of the respect NPPC enjoys on Capitol Hill. I am confident your efforts can make a difference. For your many contributions to the US economy and to Korea US economic relations, and for your strong support of the Korea US FTA, I thank you."