South Korea FMD helped spur US pork exports in March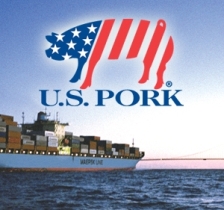 US pork exports achieved record value levels in March, signaling a resurgence of global demand, the US Meat Export Federation (USMEF) announced at the end of last week. FMD-related imports from South Korea helped greatly to achieve this results.
The United States exported 29.4% of its total pork production with a per-head equivalent value of $56.52, compared to 22.5% and $39.79 per head in March 2010.
March export levels for both pork and beef established new value and volume records. Pork exports were 217,025 metric tonnes at $553.6 million, a 31% increase in volume and 40% jump in value year-on-year.
In the first three months of 2011 pork exports increased 18% in volume and 25% and in value, compared to the first quarter of 2010.
Beef exports were also noted to be performing well, reaching record value levels as well.
Increasing global demand
"We are seeing increasing global demand for high-quality US red meat products, particularly as consumer trust recovers in key markets like Japan and South Korea," USMEF president and CEO Phil Sent said.
"Certainly, we still are facing obstacles in the international marketplace, such as China's ban on US beef, Mexico's NAFTA-related tariff on US pork, technical issues in Taiwan and age restrictions on beef exports to Japan, but even without the resolution of any significant access issues, we're finding increased opportunities to expand market share for US red meat products."
South Korea sets pork import pace
As expected, pork export growth has been led by a 212% increase to South Korea, totaling 73,905 metric tonnes valued at $175.9 million in the first quarter and 41,190 metric tonnes valued at $94.6 million shipped in March (more than four times higher than March 2010 and by far a new monthly record).
Korea's culling of one-third of its herd due to Foot-and-Mouth Disease (FMD) and the corresponding opening of a duty-free tariff rate quota have helped stimulate worldwide pork exports to Korea, although US pork is gaining market share over international competitors. Currently the United States holds a 36% market share of Korea's imported pork versus 28% last year.
"While pork buying patterns in Korea tend to slow in the spring and US prices are traditionally higher in the summer, we are focused on maintaining our momentum throughout the year," said Seng. "The National Pork Board has responded to USMEF's request by allocating $240,000 in Pork Checkoff dollars to expand and intensify our campaign to promote US pork to Korean consumers, importers and meat industry professionals."
Other pork exports
US pork exports to Japan have continued their strong pace – up 31.7% in volume and 33.5% in value in March and a solid 24% in volume and 23% in value for the quarter. The US also recaptured its 46% market share of Japan's total pork imports after a slight decline last year.
Mexico remains the top volume destination for US pork, buying 139,591 metric tonnes in the first quarter, 5% less than 2010. In terms of value, exports to Mexico are essentially level for the quarter ($255.4 million), but edged up 3.4% in March versus year-ago levels.
Seng noted that high prices have likely dampened Mexico's demand, especially with a 5% duty on bone-in ham and shoulder cuts resulting from a NAFTA trucking dispute, but exports have mostly held on a value basis and could be helped by the strengthening peso.
Other key export markets for US pork include:
• China/Hong Kong
• Australia
• Central/South America
• Russia
• Others – First quarter exports to the ASEAN, Taiwan and the Caribbean were all lower
Related websites:
• US Meat Export Federation (USMEF)
• Pork Checkoff