South Korea enlists Nedap know-how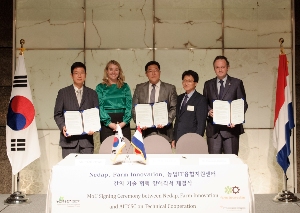 Nedap Agri, the stock-herding processing automation company, has signed two contracts in South Korea, one to provide automation solutions for the national Agriculture Convergence Support Center (AITCSC). The other contract was signed with Youngsin Farm, a South Korean sow farm.
Present at the signing were the Dutch Minister of Environment and Infrastructure, and Willem-Alexander, Prince of Orange, in South Korea on the occasion of a Dutch trading mission there.
AITCSC
AITCSC is a national taskforce charged with the automation of South Korea's livestock sector. Established in 2011, the AITCSC was set up with the aim of promoting the advantages of IT and automation in the agricultural sector, advantages the sector had mostly neglected. It forms part of a much larger government financed initiative, the so-called 'Ministry of Knowledge Economy', designed to stimulate IT and automation in diverse Korean industry sectors.
AITCSC's work is carried out through Sunchon National University, and aims to:
Raise income for stock-herders,
Make through the use of IT tools and automation the agrarian sector more efficient, in light of the fact that less and less people choose farming as a career,
Getting local Korean IT companies to participate. For instance, Korea Telekom, South Korea's largest telecommunications company, is a participant in the program.
AITCSC has chosen Nedap for its expertise in agrarian automation, the Netherlands in general being a leader in agrarian solutions and innovations. The Dutch government, Wageningen University and other Dutch firms will participate in this initiative.
Youngsin Farm
Youngsin Farm is a family-run company in the Chunnan province. Youngsin Farm has previous to the FMD outbreak 200 sows, sows that had to be culled in 2011. This calamity was occasion for the owner, Mr Yoon, to start anew, choosing for a group housing facility with feeding stations and expanding his sow herd to 500 head. In the coming years it is expected that South Korea will start making group housing mandatory. Yoon selected the Nedap Velos ESF system, given Nedap's presence in South Korea.
Nedap Agri has been active in Asia since 2008, when it introduced pig feeding stations to Shanghai, which prompted the installing of an independent sales office in there. Nedap will be undertaking the projects in co-operation with their Korean business partner Farm Innovation.