Social media users slam New Zealand Pork's advert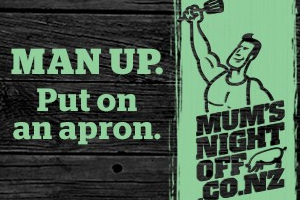 New Zealand Pork's new advertising campaign, which encourages men to get into the kitchen and give woman the night off has been slam by some social media users as sexist.
The advertising campaign promotes the company's website which they describes as "the world's first cooking website designed just for blokes" and is aimed at getting men into the kitchen.
Negative reaction to pork campaign
However it provoked an unexpected reaction. Some comments were:
"tries to break sexist stereotypes, ends up perpetuating them further"
"latest 'initiative' is sexist and shows poor judgement"
"congrats to #NZpork for coming up with an ad campaign that is insulting to men and women alike"
New Zealand Pork's reaction to advert criticism
In reaction New Zealand Pork told 3 News that those calling it sexist are in the minority. The company said it doesn't condone the objectification of women, and that images of women's breasts and bottoms were not used to market its product.
The initiative was based on an online survey that highlighted 9 out of 10 Kiwi women do most of the cooking and NZ Pork is standing by the campaign, calling it "edgy".