Shortage of pork is good news for producers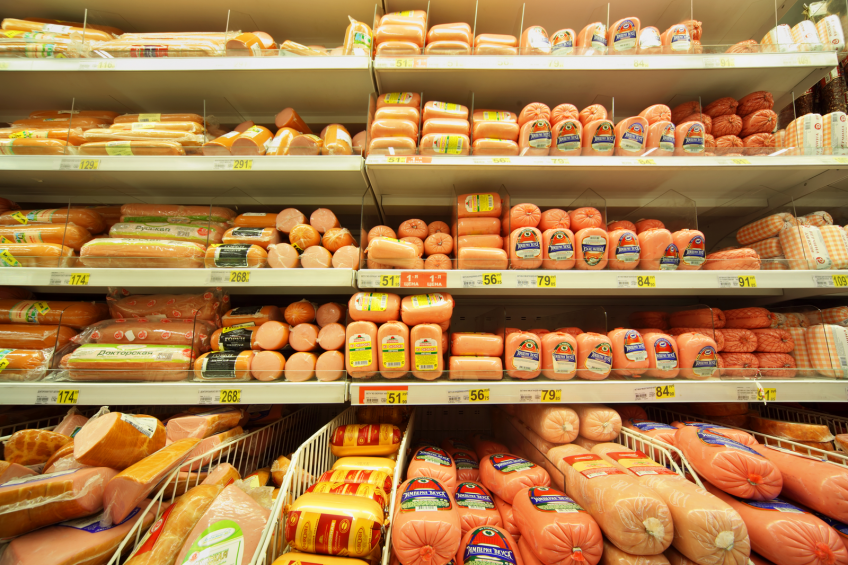 Large-scale import restrictions and a somewhat hampering Russian economy have led to a strong and rapid growth of pig prices. Where meatpackers struggle to make ends meet, pork producers are planning their way up.
By Vladislav Vorotnikov
Data from the Russian Federal State Statistics Service show it clearly: Wholesale market pork prices in June 2014 hit record highs. Prices of 1 kg liveweight increased dramatically and grew by half since the beginning of the year reaching an average of 105 roubles (US$3.05) per kg liveweight and to 160 roubles ($4.66) per kg slaughterweight. At its height, prices reached levels of 125 roubles/ kg ($3.64) and 200 roubles/ kg ($5.82) respectively.
The reason behind these sharp pork price rises is related to a deficit in recent months, caused by a multitude of factors. Of course there is the border closure to pork from the European Union (EU), additional trading blocks due to problems with Porcine Epidemic Diarrhoea (PED) in North America – and also in March an increase in the exchange rate of the rouble. On top of that, the seasonal rise does not help. During the summer months, pork demand is the highest of the year.
Uncertainty is the result – and the future of prices will mostly depend on the duration of the import ban on EU pork. In its ambivalence, the Russian Meat Union considers the current situation to be quite favourable for pork producers as this is the time to expand production and to gain some benefits from the current market situation. Meanwhile, meat processors have found themselves in very tough circumstances, as the higher prices for raw pork, to be used for sausage production, has hit them strongly.
ASF in the EU
One of the major causes of the shortage is related to African Swine Fever (ASF). The disease has been present in Russia for several years now, and although outbreaks are still reported, the strongest actions taken by the Russian veterinary watchdog Rosselkhoznadzor date back to 2012 and 2013. Currently, direct effects of the disease on Russian pork supplies are not very strong.
The virus did not stop at the EU borders, as it was found in incidental wild boars in border areas of Poland, Lithuania and Latvia. As from January 30, Russia therefore closed its borders to pork imports from the EU. These volumes are not to be underestimated – about 350,000 tonnes of pork and about 300,000 tonnes of backfat and offal, which together make up about 60% of total pork imports. The ban had a direct effect on pork producers throughout the EU, as losses in Europe were estimated at €580 million.
Russian processors, however, also suffered losses, which according to estimates vary between €30-60 million. This is related to the fact that Russian meatpackers use the offal, backfat and cheap pig parts for further processing in their sausages.
Both in Russia and in the European Union, there is talk that the Russian ban is not justified and that it is motivated by a political background. It is assumed that Russia is taking such steps in response to the political situation around Ukraine – or perhaps to stimulate the development of the domestic pork industry.Rosselhoznadzor, however, repeatedly denied all these allegations.
The effect of the ban, however, appears to be much stronger than the Russian authorities expected. Russia continues to lose imports of pork as the United States and Canada also face the consequences of PED, causing imports from these countries also to be stopped. Imports from South America have become extremely expensive due to the rising exchange rate of the rouble, so the Russian Union of Pig Producers is currently expecting that by the end of the year Russia will face a drop in pork imports by 50% or even higher in comparison to 2013, which would be a catastrophe for the meat processing sector.
Alarm bells
Meat processors already say that their business has been facing some problems due to the rise of prices for their raw materials. "We haven't seen any such price hikes for raw materials before," says Anatoly Kosinski, chairman of the National Union of Meat Processors. "The previous historical maximum occurred at the beginning of 2012, when prices for liveweight pigs cost 98 roubles/ kg ($2.85). Later, prices fell to 65 roubles ($1.89). This time it seems that the current price rates will remain unchanged for a long time."
Vitaly Deledivka, director of meat processing plant Okraine, adds, "The rapid rise in prices of raw materials led to the fact that prices in shops also increased, which in turn had a negative impact on sales. Our sales, for instance, dropped 5%. The increase in the cost of the finished product will not compensate these losses."
The best situation is experienced by large agricultural holdings, which have their own pig farms and processing capacities. Prices for their products, according to the National Union of Pig Producers rose by no more than 8%, whereas the meat-processing companies that do not have their own resource base had to increase prices for their producers by about 14%, according to an analysis of the National Union of Meat Processors.
According to Anatoly Kosinski, production costs rose by 20-25%, which made a lot of processors face losses. He says, "According to our estimates, about 15% of sausage companies are now working with losses, while 40-45% with zero income, while the rest work with only a minimum margin."
"There are a number of companies that are already on the verge of bankruptcy, though it's only a few examples."
Musheg Mamikonyan, head of the Russian Meat Union, says, "The further fate of medium-sized pork-processing enterprises will depend on how they can adapt to the new realities." He believes that one of the possible ways to reduce production costs can be reorientation of sausage producers from pork to cheaper poultry – and some have done so. The demand for poultry has started to rise, in turn pushing up prices by 15% at the start of summer 2014.
Another option to strengthen the market position for meat processing companies and agricultural holdings is the increase of sales of the semi-finished and ready-to-cook products. Recent statistics show that this segment has been growing very rapidly recently.
For example, one of the largest Russian pork producers Agro Belogorie in 2015 plans to double the capacity for slaughtering and deboning of pork, while reducing the sales of half-carcasses, in order to produce more meat in consumer packaging. Miratorg (as can be read on page 10) is another good example.
Good times for pig breeders
At the same time, in the current situation Russian pork producers will probably have a good experience with the current prices. The National Union of Pig Producers forecasted that the ban on the import of pigs from EU will last for at least one to two years, and during this time Russia can really make a jump in production, thus seriously improving the level of self-sufficiency.
Yuri Kovalev, CEO of the union, says, "We've recently started to talk about the possible overproduction of pork in Russia, but I never agreed with this point of view. What kind of overproduction can we talk about when almost a third of our market volume is dependent on imports? When the world has epizootic problems, imports fall sharply and in these cases we face a shortage of meat."
All players of the meat market, including processors, believe that this is a favourable conjuncture moment for pig breeders and it could revive the investment attractiveness of the industry that dropped in the last twelve months.
They just need to increase production and improve other performance indicators that will lead to overall reduction of the production costs and better competitiveness. Kosinski, National Union of Meat Processors, says, "If breeders now do not use this opportunity, they will upset processors. It would turn out that we suffered losses in vain."
Kovalev states that all top-20 pig producers in Russia are again starting to consider plans for the implementation of new investment projects in the pork sector. But a serious constraint to the implementation of these plans may be a problem with the payment of federal subsidies on loans for agricultural projects.
Kovalev says, "Not in the past nor this year, were subsidies by the Ministry of Agriculture for new investment projects even considered. And without federal subsidies, banks are not willing to lend to producers at affordable rates. We hope that in the end it will be resolved positively."
In general, the Russian Ministry of Agriculture forecasts that the country may increase pork production by 500,000 tonnes in the coming two years. That way, it would reduce its needs for imports by over 50% – and thus come much closer to self-sufficiency.
Source: Pig Progress magazine, Volume 30.6 (2014)