Shipping delays, economic factors slow January pork exports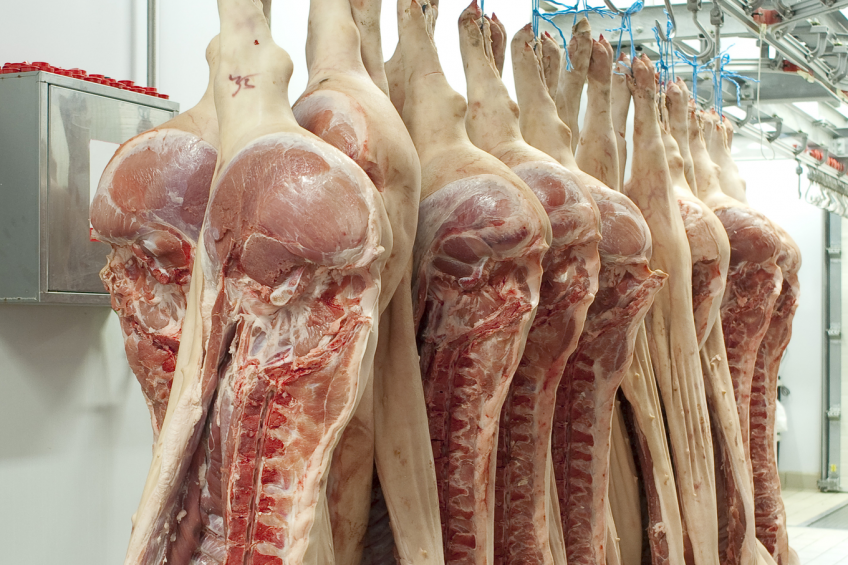 January exports of US beef, pork and lamb were down sharply from a year ago, according to data released by USDA and compiled by USMEF. Shipping delays caused by the West Coast labor dispute combined with a number of economic factors to drive export volumes for beef and pork to four-year lows.
However, USMEF President and CEO Philip Seng noted that the situations facing US beef and pork are quite different. Global beef supplies are extremely tight again this year, while pork supplies are increasing and competition in major pork export markets continues to intensify.
"We expected January to be a difficult month, so these results are not especially surprising," Seng said, "but I see the January slowdown as a wakeup call for the US industry in terms of the fiercely competitive situation we face in key markets. Conditions are now improving in the West Coast ports, but the damage caused by that impasse is still not finished, and it is clear that competitors capitalized on our inability to move product in a timely fashion. We need to win back the confidence of the valuable Asian customer base we spent many years building."
While port congestion was certainly a major factor in the sluggish January results, Seng noted that a number of other headwinds also had an impact.
"The currencies of several of our major destinations have weakened substantially against the US dollar – not only in Asia, but also in the Western Hemisphere," he said. "And unfortunately the currencies of our major competitors – Australia, the European Union, Brazil and Canada, to name a few – are also in a weakened state. We saw this building throughout the latter half of 2014, and the price disadvantage is increasingly difficult to overcome."
January was the first month in which beef tariff reductions were in effect under the Japan-Australia Economic Partnership Agreement (JAEPA), with further reductions coming in April. Though an agreement has not yet been reached, Japan recently completed the ninth round of its economic partnership talks with the EU and is expected eventually to sign an agreement that will reduce tariffs on European pork. South Korea's new trade agreements with Australia and Canada have also narrowed the tariff rate advantage the United States holds over imports from these two countries.
Pork exports higher to Korea, steady for Mexico
January pork exports were down 16 percent to 161,165 mt, valued at $455.3 million, down 15 percent. For muscle cuts only, exports fell 20 percent in volume (119,455 mt) and 18 percent in value ($374.5 million). Exports to leading volume market Mexico were down only slightly from a year ago (59,306 mt, -1 percent), while value was steady at $112.8 million. Exports to Korea posted strong increases in both volume (15,262 mt, +34 percent) and value ($51.4 million, +54 percent). The Dominican Republic also took more U.S. pork (1,463 mt, up 28 percent). Pork variety meat exports to Taiwan doubled from last year's low levels, pushing total exports to Taiwan up 28 percent to 1,007 mt.
The good news for US pork ended there, however, as exports to other major destinations were down across the board. The port crisis was particularly hard on chilled exports to Japan (14,465 mt, -22 percent), but excluding variety meat, total exports to Japan had already fallen below 30,000 mt per month in four out of the past five months as European product continued to gain market share. January's combined chilled/frozen exports to Japan were 26,493 mt, down 25 percent. Europe also dominated in China/Hong Kong, where US exports — 17,681 mt, down 49 percent and the smallest in nearly five years — were greatly impacted by market access issues and China's sluggish domestic pork prices. Exports to Australia slowed in the second half of 2014 and remained weak in January (2,598 mt, -59 percent) as the EU and Canada gained market share. Even Colombia, where pork exports have climbed steadily over the past three years, saw a significant year-over-year decline in January (3,688 mt, -22 percent), although this was in comparison to record exports in January 2014.
"In Japan and several other Asian destinations, a huge influx of low-priced European pork has poured onto the market since the EU pork industry lost access to Russia," Seng said. "Combine this with the West Coast port impasse and the euro at an 11-year low versus the US dollar, and January was something of a perfect storm for US pork. EU pork is not likely to re-enter Russia anytime soon, so competition from European suppliers will remain intense – especially in our key Asian markets. It is therefore imperative that the US industry meets this challenge in order for our exports to rebound from this rough beginning to the year."
Russia has historically been the largest market for pork exports from the EU, but the market closed in late January 2014 due to findings of African swine fever. Russia also banned imports of most pork products from the EU, the U.S. and Canada in August, under an embargo related to the ongoing conflict in Ukraine. Last week the European Commission launched an aid program designed to help the pork industry withstand price declines stemming from the trade impasse with Russia. The August ban also had a significant impact on Canada's pork exports, as Canada has been shipping more pork to the U.S. and Mexico after losing its third-largest market.
Pork export value averaged $46.45 per head slaughtered in January, down $8.05 from last year. Exports equaled 17 percent of muscle cut production and 23 percent when including variety meats (down from 21 percent and 25.5 percent, respectively, last year).
For more information on beef and lamb exports, visit USMEF