Russian GMO ban will stifle the livestock industry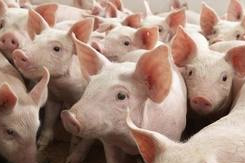 If a ban on the cultivation and use of genetically modified organisms (GMO) is implemented in Russia it will stop the development of feed and livestock industries in the country, according to the president of the Russian Grain Union (RGU) Arkady Zlochevskiy – reports Soya News Info.
According to Zlochevskiy, the Russian livestock will not develop at all in coming years, if the ban on use of GMO is put in place.
"We do not produce sufficient amounts of soybeans. If we ban the use of GMO in our territory, it means that we simply forbid our livestock development. We will lose competitiveness. As a result, we will import meat grown on GM-feed. There is simply no other alternative," he said.
According to Zlochevskiy, today over 80% of the world's soybeans are genetically modified, for corn this figure is 60-70%. He noted that the fact that some countries already allow GMO on the market is proof of the absence of harm of such products. With registration you need a lot of documents and procedures for such allowance.
On June 1, 2014 legal bill on the registration of GMO crops on the territory of the Russian Federation will come into force.