Russia hoping to abandon pork imports by 2020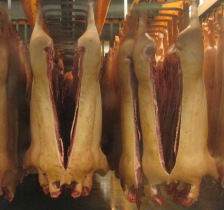 By 2020 Russia intends to completely have abandoned pork imports. For the current year, the percentage of imports is expected to come down to 22%.
Recent years have shown a trend that Russia consumes increasingly less foreign produced pork. In 2008, imported pork had a share of about 32.1% on the Russian pork market, in 2010 it dropped to the 25%.
Pork consumption
At the same time consumption of pork in Russia is growing every year, according to Foodmarkets.ru. In 2010, the consumption of pork per capita was about 22 kg. Pork continues to be very popular among Russian citizens. According to official data, more than 90% of population has it in their food ration.
The Russian ministry of agriculture and the National Union of Breeders have developed a branch development programme of pig breeding in Russia, whose implementation by 2020 will fully meet the pork demands of domestic market. Analysts forecast the growth of livestock in 2012 to a level of 23.3 million heads. 
"At current rates of pig production development in 2020 this figure will reach the level of 35 million heads. The acceleration of pig production development could be achieved by breeding high-yield breeds of pigs, the establishment of modern breeding and genetic centers, construction of new pig farms and the development of logistics infrastructure," said representatives of Russian Ministry of Agriculture.
Sources: AgroSouz, AgroPerspectiva