Russia considers banning all EU pork – not only pigs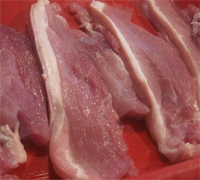 Russia may also prohibit the imports of European pork, on top of an already issued ban to imports of live cattle and pigs, effective as of March 20.
At a recent press conference representatives for the Russian Federal Service for Veterinary and Phytosanitary Surveillance (Rosselkhoznadzor) said that Europe should give very clear assurances to prevent future violations of sanitary regulations.
Representatives stated, "Despite our repeated requests to bring order in the control of pork supplies, violations continue, so we are currently considering the implementing of ban of all pork production from the EU." They added that the monitoring of imported EU pork showed residues of harmful substances, as well as bacterial contamination. They also claim data provided in veterinary certificates and product packaging often differs.
Border controls
Rosselkhoznadzor head Sergei Danvert was quoted to say, "In fact, it is the lack of border controls for goods sent to Russia, and it turns out that our office performs the duties to be performed by the veterinary service of the EU."
He said that in the past, loose border controls could have been explained by a lack of domestic pork production in Russia. Nowadays, however, stricter controls at Russia's borders would be related to the growth of Russia's domestic pork production. "And we do not intend to divert additional forces to perform veterinary functions of others. For us it is easier to simply ban the delivery, if the exporters do not comply with Russian demands."
Pork imports last year amounted to 648,000 tonnes, more than half of it (over 340,000 tonnes) came from the European Union. The major suppliers of pork were Germany (98,000 tonnes), Denmark (79,600,000 tonnes), Spain (51,200,000 tonnes), France (36,000 tonnes).
Experts state that if it comes to banning imports of European pork, the share of pork imports from Canada and the United States will increase significantly. In general, prices can rise and which will be profitable for Russian producers.
Related website:
• Rosselkhoznadzor