Russia: Compound feed production for pigs growing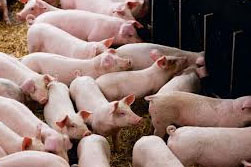 Despite the decline of feed production in Russia at the beginning of 2013, particular segments still show a strong growth, reported the Federal State Statistics Service.
According to data, production of animal feed for poultry in Russia in February2013 was 951,900 tonnes (+3% compared to the level of February 2012). The production of feed for pigs reached 531,000 tonnes (+19%), for cattle – 171,000 tonnes (- 6%), for other animals – 3,100 tonnes (+3%).

In the Central Federal District of Russia, feed production figures appeared to be higher than last year by 11%, in Volga Federal District by 14%, in the Ural Federal District 15% and in South Federal District 4%. At the same time in the North-West Federal District feed production decreased compared to February 2012 by 7%, in Siberia it fell 10%, in the North Caucasus Federal District 13%, in the Far Eastern Federal District by 2%.

In the Belgorod region, which is the largest regional producer of animal feed in Russia 311,800 tonnes of feed (-12%) was produced in February, including  poultry – 134,600 tonnes (-1%), for pigs – 171,800 tonnes (+25%).

The production of feed for pigs is predicted to rapidly rise this year with the launch of one of the biggest feed mills of largest pork producer and agricultural holding Miratorg. The feed mill that will be commissioned in May will have the production capacity of 360,000 tonnes of feed per year.