Russia: Canadian pork could replace US pork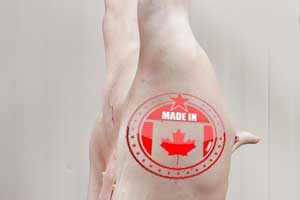 Canada has the chance to increase pork exports to Russia, the head of Russia's veterinary watchdog, Sergei Dankvert, said. According to him they stand a good chance of replacing the recently banned US pork imports.
"Because of the situation on the meat market over ractopamine, Canadian pig farms have the chance to increase their pork supplies to Russia," Dankvert told Interfax after talks in Moscow with Canada Pork International President Jacques Pomerleau and commercial advisor to the association Ilya Gerol.

Because of ractopamine Russia banned imports of meat, including pork, from the United States on February 11. Canada could fill the vacant niche.

Pomerleau said that thanks to quick action by pig farms Canada is able to continue exporting to Russia. He expects the members of the association, which exported 155,000 tonnes of pork and 17,000 tonnes of pork fat to Russia in 2012, to be able to increase exports this year. The association and the Canadian Food Inspection Agency (CFIA) are introducing a joint quality control programme to prevent ractopamine use at all levels of production.

In addition, the CFIA has stopped giving veterinary certificates for supplies to Russia for companies that use ractopamine. "The CFIA assured us that certificates are not being given, but because such companies remain on the list of suppliers to Russia, we asked for the list to be corrected so that it only contains companies that are able to meet Russia's requirements," Dankvert said.

After that, Rosselkhoznadzor will lift its requirement that meat consignments be accompanied by additional documents guaranteeing the absence of ractopamine. "But only after the list of suppliers is corrected," he said.

Dankvert said he is planning talks with the CFIA after February 25.