Retailer Sainsbury's ends selling pork with Red Tractor logo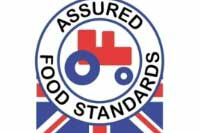 Retailer Sainsbury's is to ditch the Red Tractor logo from its products blaming the move on consumer confusion over package labelling, Farmers Weekly reports.
The retailer confirmed that it would begin removing the good standards logo from beef pork and lamb before widening the initiative to include its other product lines.

A Sainsbury's spokeswoman said: "The forthcoming EU changes to food labelling regulations have led us to review and prioritise the information we put on our packaging."

"Customers have told us that too many logos on packs can be confusing, so while we will continue to adhere to, and exceed, the Red Tractor standard, we will no longer be using their logo."

But she said that the retailer remained committed to British farmers.

"All our British sourced products meet Red Tractor's standard and we will continue to use the Red Tractor Assured food standard as the foundation of our due diligence for meat, poultry, dairy and British produce."

Disappointment
But officials at the Red Tractor said they were deeply disappointed by Sainsbury's move.

"We know that our 79,000 assured farmers will be dismayed. They work hard to produce affordable food using good standards of food safety, animal health & welfare and environmental protection.

"A recent survey showed that more than 80% of our farmer members believe the Red Tractor logo is the right tool to communicate to consumers both the good standards that they follow and the origin of the food.  This will no longer be available to Sainsbury's consumers."

National Farmers Union
NFU director of corporate affairs Tom Hind added: "This is extremely disappointing news to farmers who take pride in the Red Tractor logo as a marque of the good standards of animal welfare, environmental protection and traceability to which they produce."

He also said that products bearing the logo helped to reassure consumers that what they were buying had been independently inspected to accredited standards.

"The Red Tractor now appears on £12 billion (€14.7 billion) worth of retail sales each year, making it the most widely used assurance logo within the UK market. It is the benchmark that many consumers actively look for when deciding what to buy," Hind said.

"It is essential to avoid confusion amongst consumers over the origin of products, not just on fresh meat, but also dairy, processed meat products and fresh produce where confusion is still evident. The Red Tractor is the only guarantee that a product labelled as British is British right through the chain." he said.