Removable piglet cover attracts attention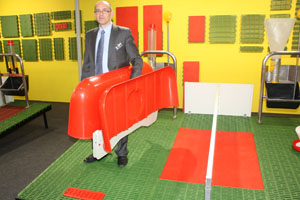 A new removable cover for farrowing has attracted some attention at EuroTier since its design is unconventional. The innovation, Ni-2 Central, has been introduced by Rotecna, Spain.
Where often farrowing covers are fixed and located in a corner, this new type ought to be located in the middle of a pen. Its height is adjustable for when piglets start to grow.
Piglet covers are especially popular in e.g. Northern Europe as they establish a microclimate with warmth from a heating pad, a possible heating lamp and the piglets themselves being kept underneath. Where the climate can sometimes go below zero for a longer period, these covers help to keep piglets warm where the rest of the pig house is cooler.
In the remainder of Europe, demand to covers is less strong, tells Rotecna's export manager Oscar Toledano. Due to warmer climates, a cover is no longer needed after the first week, he says. The company therefore devised the removable cover, which comes with a handle. The 8 kg total can be taken off, transported to a next farrowing house, desinfected on the new location and re-used.
Rotecna also showcased a new fixed farrowing cover with an entrance and a new slat with more grip for piglets during lactation.

Related websites:
Rotecna
EuroTier