Product: Alternative to gas torpedo heaters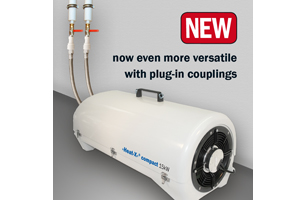 Heat-X compact ideally permits the pre-heating of air in small cabins or foyer areas. This combined heat exchanger and heating fan is easy to handle, space-saving and, with its new optional plug-in couplings, now even more versatile to use.
Heat-X compact has the advantage over conventional gas torpedo heaters in barns, cowsheds and stables that it does not burn oxygen nor produce water vapour and CO2. You will therefore be significantly improving the prevention of fire by avoiding naked flames in sheds, barns and stables.
Two models of Heat-X compact combined heat exchanger and heating fan are available from Reventa: a Type 1 model with an output of 15 kW, a fan capacity of 1,500 m3/h and weighing only 25 kg and a Type 2 model with an output of 30 kW and a fan capacity of 3,000 m3/h. The 30 kW model is fitted with rollers for ease of transport.

If required, the heat exchangers can be suspended from the ceiling. The products are made from high-grade materials, like stainless steel and GRP and their stainless steel pipe system and heat exchanger fins are ultra-robust and durable.
Related website: