Pork meat scandal in China causes major supermarket recalls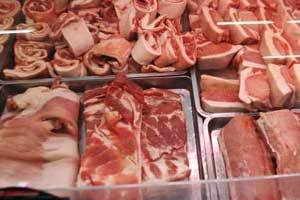 Clenbuterol tainted pork meat has been in the spotlight in recent weeks, as the scandal has led to investigations into the illegal use of the drug in pork production in China with recent reports of major supermarkets recalling pork products.
Recalls
Clenbuterol fed to pigs has the effect of leaner meat which brings in a higher price tag. However, contaminated pork has caused supermarkets all over China to recall meat products at the weekend and while many supermarkets have also removed products from shelves as a result of the scanda still gripping the nation.
Products called 'Shineway' (English translation) which were processed by the Henan-based Jiyuan Shuanghui Food Co Ltd were found last week to contain clenbuterol. The producer is an affiliate of the Shuanghui Group, China's largest meat processor.
All around the country as well as in Xian, the capital of Shaanxi province , supermarkets removed products produced by Jiyuan Shuanghui from shelves. Customers  have been asked to return affected products to the supermarket.
Wu Mart and Ito Yokado are major supermarkets in Beijing, they stated that they were not recalling any meat products (Shineway) by Henan-based Jiyuan Shuanghui Food Co Ltd because the products they have were processed by other affiliates of Shuanghui and had all been tested as safe, said a report by
People's Daily Online.

But there was a different story in Guangzhou, the capital of Guangdong province. Here the Vanguard supermarket chain withdrew all sausage marketed by Shuanghui  even though the products were not made by the offending affiliate, Jiyuan Shuanghui.
"It (the recall) does not mean all products produced by Jiyuan Shuanghui are substandard. The move is being done to reassure the public," Du Junfu, Party chief of Shuanghui Group.
According to the company 2000 tonnes of meat products and 70 tonnes of fresh meat had been recalled by Saturday. However, there was no indication of the total amount of the products yet to be recalled.
Clenbuterol found in feed
271 kilograms (approximately 600 lb) of feed in Henan province was discovered having been contaminated with the additive. The feed was destroyed on Saturday.
The Trust-Mart supermarket chain still carried on selling Shineway sausages.
Clenbuterol is harmful to humans.